OnePlus 5T has been announced a few days ago and we think it is time to compare it with the best Chinese phones in the market to see if it is worth buying it. One of them is Nubia Z17s: it is one of the best Android phones ever in terms of performances, even if the company that made it is not the most famous in the world. Performances and innovation are two aspects that do not miss in these two incredible flagships, as well as a great value for money. In this comparison, we will examine every aspect and decide which phone is the best.
OnePlus 5T vs Nubia Z17s: Design and build quality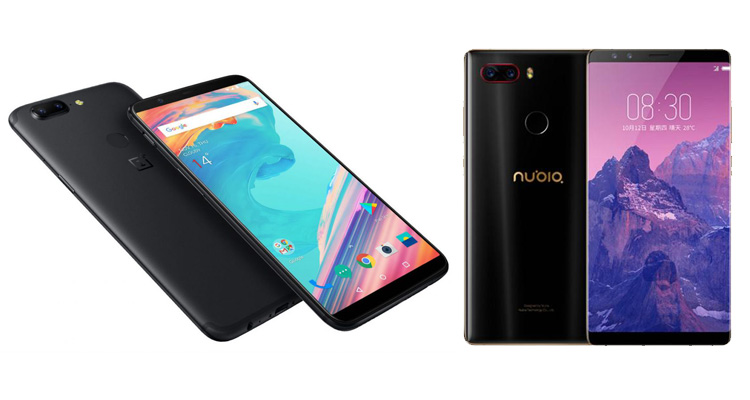 OnePlus 5T does not offer an incredibly unique design, but it is a beautiful phone and it is solid. It has a size of 156.1 x 75 x 7.3 mm (so it is very thin) and a weight of 162 grams. From its look, it is easy to realize that this device is a flagship: the company has put efforts into its details and the device is very ergonomic, but it is far from being a revolution. Anyways, there is a bezel-less display (80.5 percent screen-to-body-ratio), and this makes the design innovative even if it is not original. The handset has also a great build quality, it is entirely made of aluminum with a sturdy back cover and antenna bands positioned along the borders for a better look. Its frontal glass is protected by Gorilla Glass 5, the most powerful protection ever seen on a phone.
Nubia Z17s is "the elegance in person". It has a back cover made of glass which reflects the light creating very suggestive waves: an effect which reminds of Honor 8 and 9, two phones that are considered among the best in terms of design in the affordable flagship segment. The frame is made of aluminum like almost every premium phone. The size of the device is 147.5 x 72.7 x 8.5 mm, for a weight of 170 grams. There is a borderless screen here as well, and the screen-to-body ratio is even bigger than the one of the OP5T. Due to this aspect and its smaller display, the phone is much more compact than its opponent. The glasses are protected by the Gorilla Glass technology but the version has not been specified.
OnePlus 5T vs Nubia Z17s: Display
The displays from these handsets seem similar but they are not.
The screen of OnePlus 5T has a size of 6.01 inches, a Full HD+ resolution of 1080 x 2160 pixels, an 18:9 aspect ratio and three important technologies: Optic AMOLED, DCI-P3, and sRGB. Thanks to these technologies, the wonderful display of this device can offer outstanding colors and very deep blacks. The detail is not the maximum for a flagship, but the viewing angles and its brightness are satisfying.
Nubia Z17s has a smaller display with a size of 5.73 inches. It offers the LTPS IPS LCD technology, a 17:9 aspect ratio and a Full HD+ resolution with 1080 x 2040 pixels (slightly inferior to the FHD+ resolution of OP5T). Colors are nice and brightness is great, but this screen is not at the same level of the one from OP5T. Further, 17:9 is an unusual aspect ratio and it may create more imperfections in the viewing experience with videos and apps (e.g. unusual black bars at the sides, with both 16:9 and 18:9 content). So the display from OnePlus 5T seems better on paper.
OnePlus 5T vs Nubia Z17s: Hardware
The difference between these phones in terms of hardware and performances is minimum.
OnePlus 5T sports an octa-core Snapdragon 835 SoC by Qualcomm which runs at a max frequency of 2.45 GHz. It has been launched in two configurations with different prices: one has 6 GB of RAM and 64 GB of internal storage, while the most powerful one has 8 GB of RAM and 128 GB of internal storage. The memory (type: UFS 2.1, the fastest ever used on a phone) is not expandable with a micro SD, but there is a dual SIM slot with dual standby technology. The phone can be charged via a USB Type C port, it has Wi-Fi connectivity 802.11 a/b/g/n/ac and Bluetooth 5.0.
Nubia Z17s has an octa-core Qualcomm Snapdragon 835 chipset as well, with a max frequency of 2.45 GHz. The configurations are exactly the same as OP5T: one has 6 GB of RAM and 64 GB of internal storage, another has 8 GB RAM and 128 GB ROM. In terms of connectivity, there is a dual SIM slot (no micro SD slot) with dual standby technology, Wi-Fi 802.11 a/b/g/n/ac and Bluetooth 4.1.
Now lets' talk about performances: they are both among the fastest phones ever. Their speed is incredible as well as their smoothness and stability. You can play every game with these phones and you will obtain a very high frame rate as well as high details. There are no limits, even multi-tasking works like a charm with a very high number of opened apps. Nubia Z17s is one of the 10 best phones on benchmarks according to AnTuTu, with a score of 179,454 points. OP5T has still not been tested by AnTuTu, but its predecessor OP5 has been defined the best Android phone on benchmarks with 181,288 points, and its successor has exactly the same hardware.
OnePlus 5T vs Nubia Z17s: Software
OnePlus 5T has been announced with Android 7.1.1 Nougat out of the box and we will need to wait for the first months of 2018 to see the final update to Android 8.0 Oreo. The user interface has been customized with OxygenOS, but there are not so many customizations. The experience is similar to the one offered by stock Android, there is just a low amount of additional features. Among the most important features, there is facial unlock which uses facial recognition to unlock the phone very fastly.
Nubia Z17s has Android 7.1 Nougat installed, together with the Nubia UI 5.0. Here there are more customizations and they regard both graphics and features. The user interface is much easier to use and intuitive thanks to improved graphics and rapid options accessible with gestures. There are also useful features like Online Themes, the one to clone apps and much more.
OnePlus 5T vs Nubia Z17s: Camera
OnePlus 5T has a dual camera setup composed of sensors by Sony with resolutions of 16 + 20 MP and a f/1.7 aperture. The camera has been improved to have great performances in low-light conditions. It can shoot detailed photos in every situation and well stabilized 4K videos thanks to EIS. OP5T is not the best camera phone in the market, but it is a great device in terms of photo and video quality.
Nubia Z17s has a dual camera with resolutions of 12 + 23 MP, it can do an excellent 2x optical zoom and its apertures are f/1.8 and f/2.0. A high-end camera in this case too, but it is not at the same level of its opponent. OnePlus 5T can shoot more detailed photos and it can adapt better to low light conditions. So OP5T wins the camera comparison, even though Z17s has a dual camera on the front side as well, which is very interesting.
OnePlus 5T vs Nubia Z17s: Battery
Even if OnePlus 5T has a very big display, it does not offer a huge battery. The battery of this phone has a capacity of 3300 mAh and it supports fast charging due to the Dash Charge technology. Even though we are talking about an average capacity (for a flagship released in 2017), the battery life is satisfying since the software is optimized very well. You can arrive at the end of the evening with an intensive use without any problem, even though your battery will not last much more than that.
Nubia Z17s has an even smaller battery: its capacity is just 3100 mAh, but it has the most efficient fast charging technology by Qualcomm: Quick Charge 4.0, which makes the phone reach 50% of battery in just 25 minutes of charging. The battery life should be more than sufficient thanks to the nice optimization usually provided by the company.
OnePlus 5T vs Nubia Z17s: Price
OnePlus 5T and Nubia Z17s are among the cheapest flagship phones.
OnePlus 5T can be purchased all around the world with a price tag of 499 euros/dollars in the lower end version with 6 GB of RAM and 64 GB of internal storage, and 569 euros/dollars in the version with 8 GB RAM and 128 GB ROM.
In China, Nubia Z17s has a price of 2999 Yuan for the lower end version and 3999 Yuan for the most powerful one. If we talk about street prices, with a bit of luck it is possible to find it at just 479 dollars or 399 euros in online stores which can also ship outside China. OnePlus 5T and Nubia Z17s are both very convenient flagships, but Z17s can be found at a lower price. The only problem is the fact that it is harder to find Nubia Z17s in every nation, while it is very easy to find OP5T: you just need to head to the official site.
OnePlus 5T vs Nubia Z17s: Winner
It is very hard to decide which is better between these wonderful handsets. While OnePlus 5T has a superior display, better performances, a longer battery life and it can shoot better photos, Nubia Z17s offers a more good-looking design and a software with more features and improvements over stock Android, as well as a lower price. OnePlus 5T wins the comparison, but note that the difference is not much, so if you buy its opponent you would still make an excellent purchase.
OnePlus 5T: PRO and CONS
PRO
Pretty nice display
Best performances in the Android market
Good camera
Nice battery life
Satisfying build quality
CONS
Nubia Z17s
PRO
Incredible design
Very high screen-to-body ratio
Incredible performances
Very affordable price
CONS