MIUI is one of the most popular versions of Android in China. Not only is it the version run by Xiaomi phones, it is also available for a bunch of non-Xiaomi devices. The Android ROM is now in its 9th version and has been rolling out to devices in the past few months.
Today, the official MIUI Weibo revealed that there will be an announcement tomorrow at 10:00 AM (local time). No one has an idea what it is about except that it is "Good News" according to a rough translation of the post. The post also includes a photo of the Xiaomi Mi 2.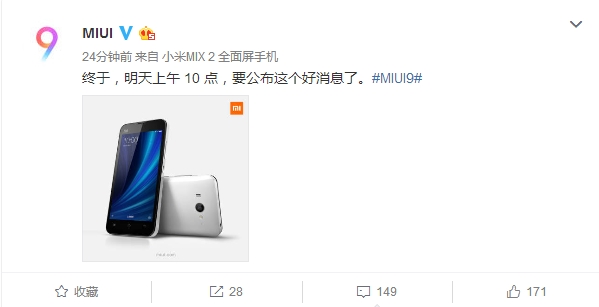 There are reports that the announcement has to do with MIUI 9, more specifically the final roll-out to the remaining supported devices. The phones belonging to this last batch is said to include the 5-year old Mi 2 hence the use of its image in the post.
Xiaomi's MIUI has been lauded for its support for older devices, a feature that is uncommon to stock Android and a number of other ROMs of Chinese origin.
READ MORE: Xiaomi Redmi 5A Sales Have Surpassed 1 Million Mark Within a Month of its Launch in India
At an event in December, 2017, CEO Lei Jun, revealed that there are currently 300 million MIUI active users across the globe. This high number is said to be as a result of its continuous support for older devices.
(Via)