Samsung Galaxy S9 Dummy Spotted In Leaked Video With Vivid Clarity
Samsung today officially revealed that it would launch the Galaxy S9 and S9+ on February 25 just before the official kickoff of MWC 2018. The tech giant has done the expected as invitations have been sent out to the media for the Galaxy Unpacked 2018 holding in Barcelona. Now, we have got what is likely the first leaked photo of the Galaxy S9 since the announcement was made. We look forward to seeing more before the official launch.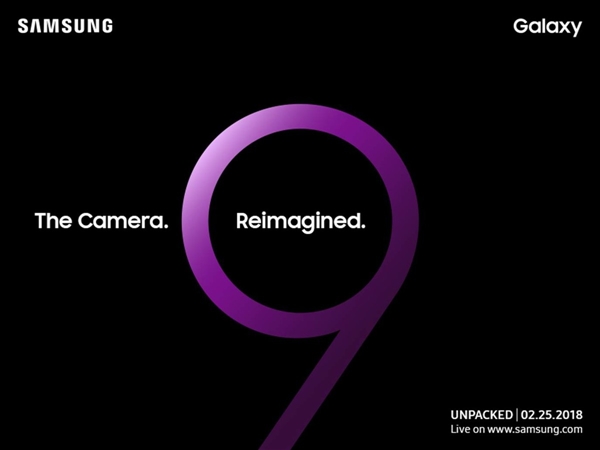 The leaked video appeared on China's Weibo and is far clearer than the first video which appeared on Weibo a couple of days back. It's almost confirmed that the Galaxy S9 will feature much-thinner bezels than the Galaxy S8. The short dummy video shows us not just the rear view but also the front view of the device. It also reaffirms earlier rumors of a single rear camera on the Galaxy S9. The rear camera is followed by a fingerprint sensor at the bottom and LED flash on the right side of the camera. Samsung disclosed on the launch invitation that the Galaxy S9 would pack a reimagined camera. The poster seems to also hint at the presence of a single rear shooter. As you can see on the poster above, the word "Reimagined" was written inside the circle created by number 9 which could be a reference to a single rear shooter. Nevertheless, the Galaxy S9+ is expected to come with dual rear cameras.
Read Also: Samsung Galaxy S9 & S9+ Receive 3C Certification In China
As a reminder, Samsung Galaxy S9 is expected to feature a 5.77-inch Quad HD+ dual-curved Super AMOLED display while the Galaxy S9+ will come with a bigger 6.22-inch Quad HD+ dual-curved Super AMOLED display. The models are expected to pack either a Snapdragon 845 or an Exynos 9810 chipset and would be fueled by a 3,000mAh battery. Further, the Galaxy S9 will present with a 12MP rear camera with f/1.5 aperture and OIS and an 8MP selfie camera with f/1.7 aperture.