Xiaomi Redmi Note 5: Teaser From Flipkart Hints At A 18:9 Display
by Michele Ingelido ago0
The Indian e-commerce giant Flipkart has just published a new teaser on Twitter which refers to the upcoming Xiaomi Redmi Note 5. It has already been confirmed that the most awaited Xiaomi midrange of H1 2018 is launching in India on Valentine's Day (February 14), but it is speculated that it will just be a re-branded version of the Xiaomi Redmi 5, and it is also expected to arrive in a Prime variant which could be a re-branded Xiaomi Redmi 5 Plus. The teaser comes with an image attached and it contains the #GiveMe5 hashtag. The image is taken from a teaser video published by Xiaomi India, according to which Xiaomi Redmi Note 5 will have a display with an 18:9 aspect ratio and narrow bezels.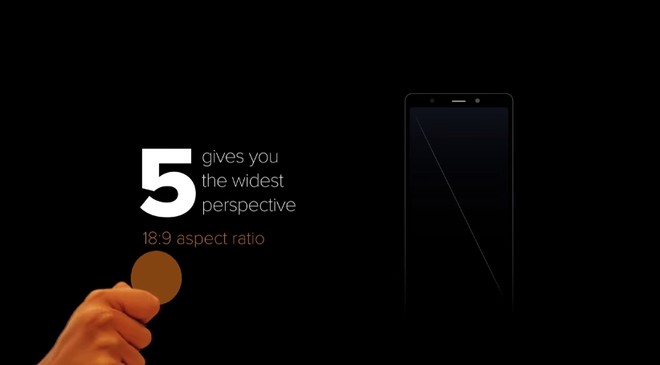 From a drawing showed in the image, the handset does not look identical to the Xiaomi Redmi 5, and this makes us think that we may be talking about a different device. In the teaser video, we can read that "5 lets you see more, 5 gives you the widest perspective, 5 is an all-rounder device, and 5 makes colors come alive". From these words, it seems that the midrange will have a very wide screen and a high resolution as well. At last, according to the video shared by Flipkart the phone will be officially announced on February 14, just like the previous rumors suggested.
Previous leaks suggested that the Xiaomi Redmi Note 5 is going to be launched with an octa-core Snapdragon 636 chipset by Qualcomm, which is the successor to the power-efficient Snapdragon 630. The SoC is expected to be paired with 4 GB of RAM and 64 GB of internal storage. On the rear side, we expect to see a dual camera configuration with resolutions of 16 and 5 MP, while the selfie camera is rumored to have an 8 MP resolution. So, the Xiaomi Redmi Note 5 is expected to be the first device from the Redmi Note series to sport a dual camera.
(Via)