Xiaomi Deletes Twitter Poll After MIUI Loses To Android One
Xiaomi's devices comes pre-loaded with the company's own customized Android operating system — MIUI. However, with the Mi A1, the company offered the pure Android experience under Google's Android One initiative.
Not everyone is a fan of MIUI and many user prefers the stock Android experience. To get to know what people thinks, Xiaomi ran a poll on Twitter asking its followers whether they preferred MIUI or Android One. But due to the result that seemed unsatisfactory to Xiaomi, the poll has mysteriously disappeared.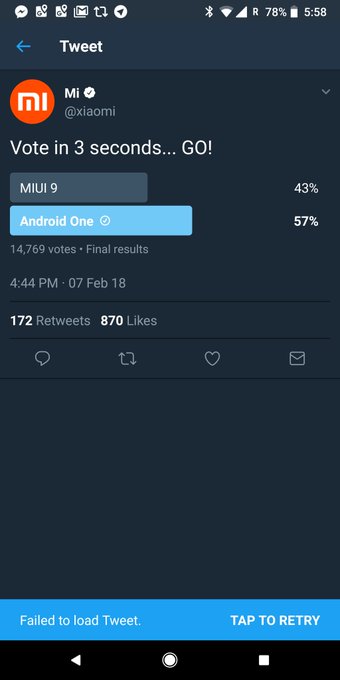 According to the reports, opinions were mixed on the post, but the Twitter poll itself ended with 57 percent of votes going to Android One and 43 percent to MIUI. Finding a loss for its homegrown MIUI user interface unacceptable, the company ended up deleting the poll.
It seems that the social media team behind the Twitter account misread their own audience, and thus, it backfired. According to the stats from LineageOS, many fans of Xiaomi's hardware prefer stock Android experience,  These are the regions Xiaomi is most popular in, so the results are not quite as surprising as they looked at first glance.
Read More: Rumor Mill: Xiaomi To Launch Redmi Note 5 Pro Along With Redmi Note 5 in India
While we feel that Xiaomi should have taken it as a learning for its upcoming updates for the MIUI, instead the company acted childishly and acted as the poll never took place. This is not the kind of reaction we expected from the company as prominent as Xiaomi when things don't go their way.
(Source)