Leaked Samsung Patent Sketch Tips Galaxy Note 9 To Pack An Under-display Fingerprint Scanner
The under display fingerprint technology seems to be the next big thing in the smartphone industry after the viral full-screen design. The technology has only featured on the Vivo X20 Plus UD version for now but rumours abound that we would soon see the UD fingerprint technology coming to our favorite smartphones soon. One of the models the techology is tipped to feature on is the Galaxy Note 9, Samsung's next-gen Galaxy Note series smartphone. The sketch of a new patent for which Samsung has purportedly been granted license has leaked on Weibo, showing the design of the UD technology.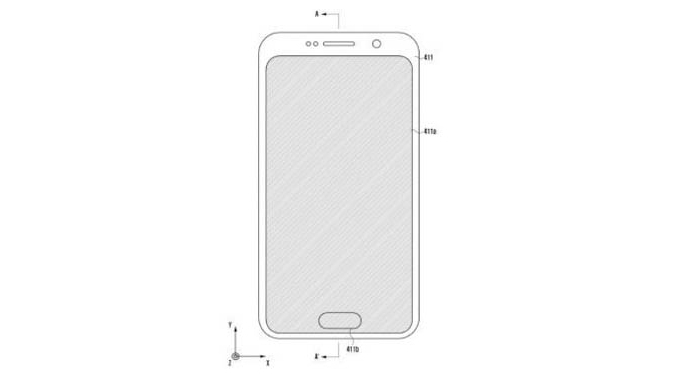 The under-the-glass fingerprint sensors were rumoured last year as coming to the Galaxy S9, but it later turned out to be false. Instead, the Galaxy Note 9 was fingered in the rumour mills to be the first Samsung phone with a fingerprint scanner embedded in its display. How the sensor would sit under the display of the Galaxy Note 9 has now been featured in a sketch said to be a patent that Samsung has been granted. From the sketch, we could see a handset with a fingerprint pad embedded right in the display. It has that typical elliptical shape that Samsung has been sticking to over the past few years, too. But this time around, the eliptical pad seems to been inside the display screen and not on the bottom bezel.
Read More: AnTuTu's Top 10 Favorite Smartphones Of 2017 Feature 3 OnePlus & 4 Xiaomi Models!
Why this sounds interesting is that the Galaxy Note 9 would have a front-mounted fingerprint scanner instead of the sensor been placed at the back which would make it difficult to operate. The Galaxy Note 9 is expected to keep up with the 6.4-inch screen size of its predecessors with a resolution of 4096×2160 pixels screen and Pixel density of 724ppi. The model is also expected to feature a Snapdragon 845 processor paired with 8GB of RAM and there will be 256GB of storage. The device is also rumoured to feature a dual camera setup both at the front and rear aspects.
(source)