Xiaomi Mi LED TV 4 Sold Out in Less Than 10 seconds In Its First India Sales!
Xiaomi India has revealed via its official Twitter handle that the Mi LED TV 4 which went on its first sale on Thursday was sold out faster than was expected. According to the post, the Smart TV was sold out in less than 10 seconds on Mi.com.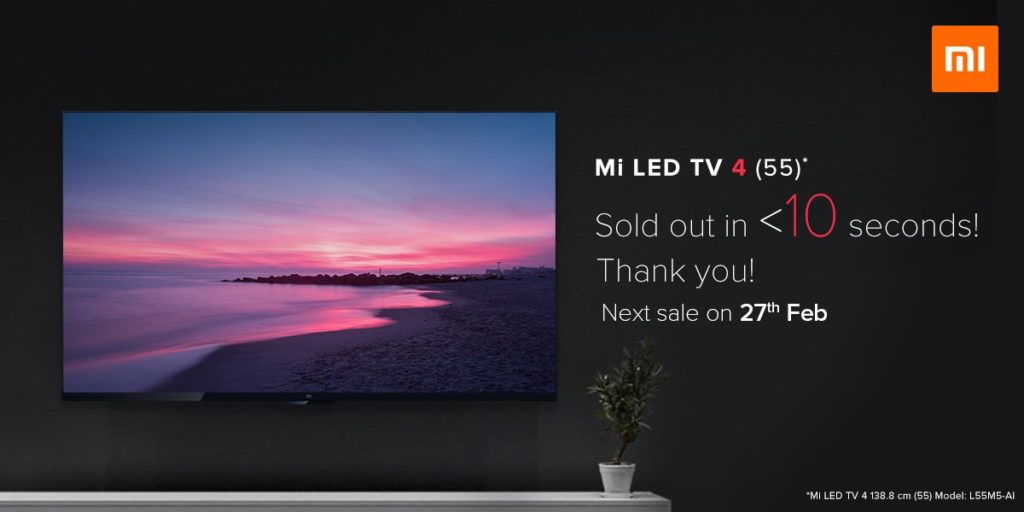 Xiaomi didn't reveal the number of units made available during the first sale but for a Rs 39,999 ($624) TV in an emerging economy, that is a sign of better days ahead. The Mi TV 4 would go on its next flash sale on February 27 via Mi.com and Flipkart.
As a reminder, the Xiaomi Mi LED TV 4 comes only in 55 inches screen size and with a number of cool features. The device features a thin build which is just 4.9mm. This gives the Smart TV the title as the thinnest LED TV in the entire world. It also comes with ultra-thin bezels which makes the TV look as if it is without frames. The Mi TV 4 also features PatchWall technology specifically crafted for the Indian market. The custom OS integrates the user's set-top box with the TV's UI making it easy to control both devices using a single remote. And since it is a smart TV, there are lots of contents for all the members of the family, irrespective of age. The PatchWall software brings all the TV stations available on the set-top box complete with their logos to the TV and this will be shown on the homepage of the TV. This allows users to switch between online TV to content from their set-top box.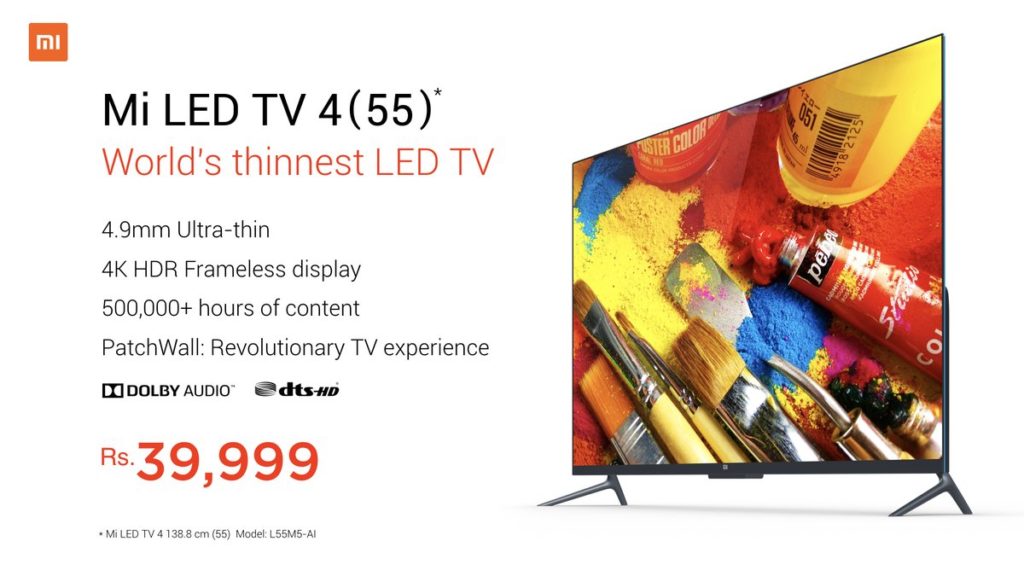 Related: Xiaomi Will Not Increase Pricing of its Smartphones Despite Low Margins, Confirms Xiaomi India MD
In addition, Xiaomi touts PatchWall as having support for all the major set-top boxes in India which are about 48. The Smart TV also comes with a Mi IR cable which allows users to control their set-top box and the TV with the portable, 11-key Mi TV 4 Bluetooth remote. In addition, the TV 4 features a 4K UHD resolution and is powered by a 64-bit Amlogic quad-core processor paired with 2GB of RAM, while there is 8GB of storage onboard.
(source)