You May Want To Stay Away From Sony's Xperia XZ2 2-in-1 Dongle
by Habeeb Onawole ago0
The alternate title for this post should be "How to not charge your phone while charging it" because that is practically what Sony's Xperia XZ2 Type-C 2-in-1 cable does.
The flagship phone which was unveiled at MWC 2018 doesn't have an audio jack. So you are left with listening to audio files over Bluetooth, through an USB-C audio dongle or via a pair of USB-C headphones. If you choose either of the last two, that means you can't charge and use your headphones at the same time.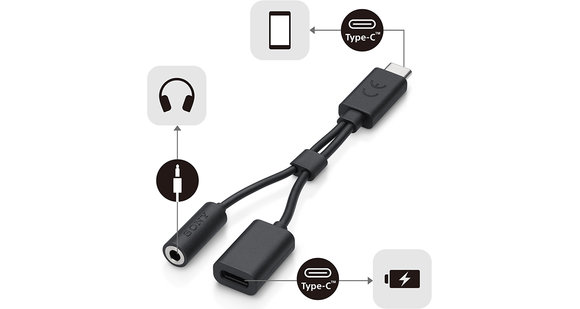 Sony wants you to be able to use your 3.5mm headphones and charge your phone at the same time (at least that's the idea), so it made the USB Type-C 2-in-1 Cable EC270 – a dongle that has 3.5mm and USB-C input ports at one end for your earphones and charging cable respectively, and a USB-C connector that plugs into your phone at the other end.
All you have to do is plug in your earphone and charging cable to the dongle and connect it to your phone and you can listen and charge at the same time.
The problem is that while you will do the former, you may not be charging your phone seeing as the dongle's power output is limited to 5V/0.5A (2.5W)! We don't have to explain how that power rating practically doesn't translate to your phone charging especially if you are using the phone at the same time.
READ MORE: Sony Xperia XA2 Ultra Goes Official In China With A 2,999 Yuan (~$475) Price Tag
Sony may have an excuse for keeping the charging speed that low, as a higher one may interfere with the audio but it doesn't make it right. It simply won't work and when you think about the €19.90 (~$24.50) price tag slapped on it, it makes it worse.
(Via)