Samsung Notebook 3 and 5: Three Compact Laptops With Intel 7th/8th Gen CPUs Announced
by Michele Ingelido ago0
Samsung is not only about smartphones: the Korean giant has just announced three new laptops from the Samsung Notebook 3 and 5 series. These compact notebooks will not be sold at a very expensive price, but they will boast good specs, targeted at productivity. The first model belongs to the Notebook 3 series and it mainly distinguishes from the others due to its 14-inch display which can show images at an HD 720p resolution. It will be launched on the market in two variants which will differ for their CPUs. The cheaper will have a dual-core Intel 7th gen CPU, while the most powerful one will get a quad-core Intel 8th gen chipset. Both the versions will be equipped with an SSD and a 43 Wh battery.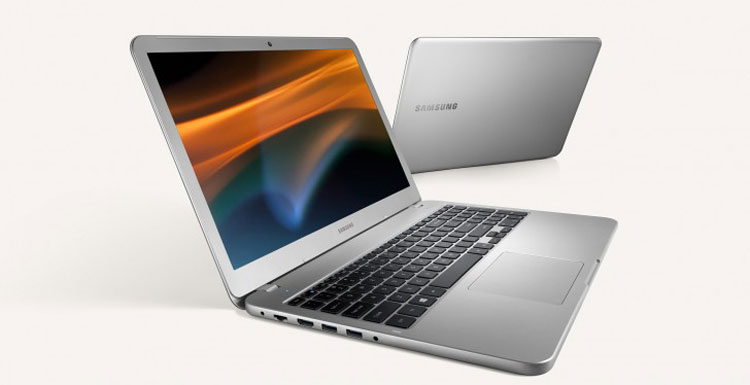 Samsung Notebook 3 14″ will be 19.8 mm thin and it will weigh 1.68 kg. Samsung has also announced another laptop from the Notebook 3 series, but this one comes with a 15.6-inch monitor which has a 720p or a 1080p resolution depending on the variant that you will choose to buy. It comes in different versions with Intel 7th gen and 8th gen CPUs (dual-core and quad-core, respectively), an SSD, a 43 Wh battery and even a dedicated GPU: the Nvidia MX110 with 2 GB of dedicated memory.
At last, we got the Samsung Notebook 5 with a 15.6-inch monitor and a 1080p resolution. Even this one has been launched in two versions with Intel 8th gen quad-core and Intel 7th gen dual-core. Unlike the above-mentioned laptops, this one comes with an SSD and an additional hard disk which will give you more storage. Then, we got the Nvidia MX150 dedicated GPU and a 43 Wh battery. The weights of Notebook 3 15.6 and Notebook 5 15.6 are exactly the same: 1.97 kg. The laptops will be officially available to purchase in Korea starting from this month, while the global launch will happen sometime in Q2.
(Via)