Chinese smartphone OEMs are known for borrowing features from Apple iPhones. The notched screen design of the OnePlus 6 is inspired from the Apple iPhone X. Since a device named "OnePlus Bullets Wireless" has received Bluetooth certification, it seems that OnePlus is gearing up to debut Bluetooth wireless earbuds like Apple's AirPods.
Apple had introduced wireless Bluetooth earbuds alongside the iPhone 7. It was the first smartphone from the company to come without a 3.5mm headphone jack. The first official image of the OnePlus 6 that was released by none other than OnePlus CEO Car Pei had revealed that its notched display will bear resemblance with the iPhone X. Pei had also confirmed in the recent past that the upcoming OnePlus 6 flagship will retain the 3.5mm audio jack. Nevertheless, the company may launch OnePlus Bluetooth Wireless earbuds alongside the OP6 smartphone.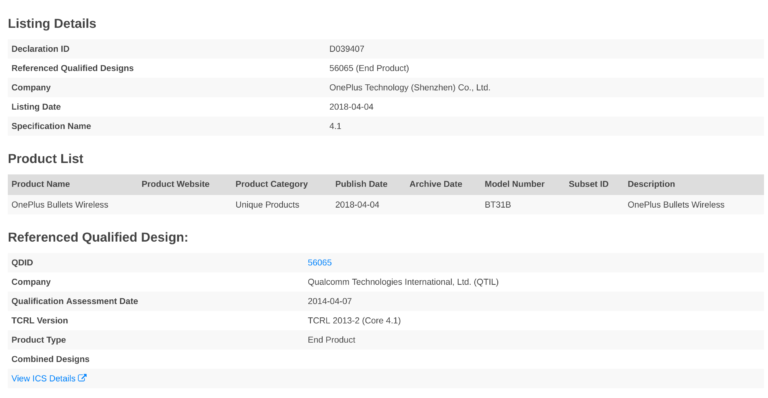 The wired earphones from OnePlus are sold with "Bullets" branding. The Bluetooth certification reveals that the company would be soon debuting its wireless earphones. Apart from the model number of BT31B and mentioning of Qualcomm's involvement, there is no information available on the specs of the upcoming OnePlus wireless earbuds.
Read More: OnePlus Officially Reveals OnePlus 6 Variant with 8 GB RAM, 256 GB Storage, Snapdragon 845
The Bullets V2 earphones that was launched with a low price tag had received good reception. It is likely that the Bullets wireless earbuds may get unveiled alongside the OnePlus 6 flagship with a pricing of more than $19.99.
Now that the company is prepping up on launching its first wireless earbuds, could it be planning to remove the 3.5mm audio jack feature from its smartphones arriving after OnePlus 6? Share us your views by posting your comments below.