UMIDIGI Copies Huawei By Launching Twilight and Phantom Gradient Hues For Z2 and Z2 Pro Flagships
by Michele Ingelido ago0
Every time a company innovates, we see several other manufacturers copy the trend. After Huawei launched gradient colors for its latest flagships Huawei P20, P20 Pro and Honor 10, UMIDIGI has confirmed the launch of its Z2 and Z2 Pro flagships with exactly the same hues. UMIDIGI Z2 and Z2 Pro will soon hit the market in the Twilight and Phantom color: the first hue is the same as Huawei P20 and P20 Pro, while the second is the one of the Honor 10. And the color is not the only feature which UMIDIGI Z2 and Z2 Pro share in common with the latest Huawei devices.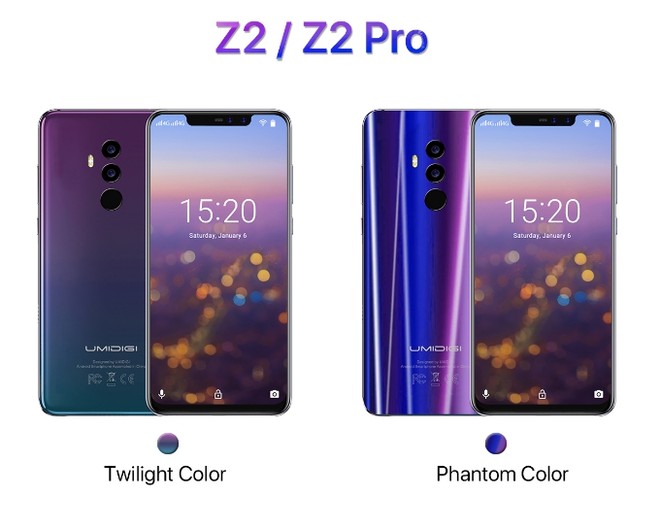 They even have a glass back and a notched display just like P20 and Honor 10. The only thing which does not make them look like perfect clones is the position of the rear camera, which is reminiscent of Huawei Mate 10 and 10 Pro. Indeed, the dual rear camera is placed at the center of the back cover and right under it, there is a circular fingerprint reader. The complete specs sheet of UMIDIGI Z2 and Z2 Pro is not known yet, but we know some of their key specs. They will boast a 6.2-inch display with a 19:9 aspect ratio which will show images at a Full HD+ resolution of 1080 x 2280 pixels.
Under the hood, there will be an octa-core MediaTek Helio P60 chipset which will also support artificial intelligence. So, even though they will be UMIDIGI's flagships, they will not be real flagship phones but just upper-midranges. Thanks to their glass backs, they will support wireless charging with a 15W power. They will also support NFC and all the bands for European customers. Android 8.1 Oreo will be installed out of the box.
We believe that Z2 and Z2 Pro will not be the last devices which will be released in these gradient colors as they are extremely attractive and appreciated by the public. Do you like them or would you define them as too fancy?
(via)