Even Huawei P8 Lite (2017) Gets Android 8.0 Oreo Beta Firmware
by Michele Ingelido ago0
Huawei P8 Lite (2017) is a remake of one of the best-selling Huawei phones ever: the unforgettable P8 Lite. It has been released as a very affordable device, even cheaper than P10 Lite, with Android Nougat. But even though its price tag is very competitive, this phone will be soon updated to Android 8.0 Oreo just like some of the most expensive Huawei flagships. These days, the Chinese company is attracting a lot of attention as it has started the beta testing phase of Android Oreo on several handsets at the same time.
Huawei P8 Lite (2017) is just the nth of them. In order to download the beta firmware of the update, you need to download the Huawei Beta app from the official site by clicking on the big blue Download button. Then, you need to follow the easy wizard that you can find on the download page to adhere to the beta testing phase and download the firmware. Note that you first need to be accepted by the team. The beta testing phase of Android Oreo for Huawei P8 Lite (2017) should last until May 31, then the final update is expected to roll out in the following weeks.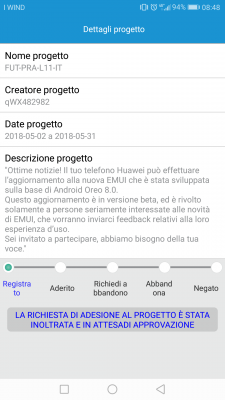 Note that we are talking about an unstable firmware which may not be suitable for daily use, so install it only if you are aware of the risks and make a full backup of your important data before installing it. If you find a bug or other issues after installing the beta firmware, you can contact Huawei to communicate it in order to help developers fix it. You can leave the beta testing project anytime you want by heading to the above-linked download page of the firmware and following the instructions at the end of the page. Will you install the beta firmware or wait for the stable version?
(via)