BlackBerry BBG100-1 Powered By MSM8953 Seen On Geekbench
by Habeeb Onawole ago0
BlackBerry recently announced that it will launch the KEY² next month. However, it may not be the only BlackBerry phone coming soon. A new device with model number BBG100-1 just showed up on Geekbench today.
The BlackBerry BBG100-1 runs Android 8.1 Oreo. It is powered by the MSM8953 chipset which is popularly known as the Snapdragon 625 mobile platform. It also has 4GB of RAM.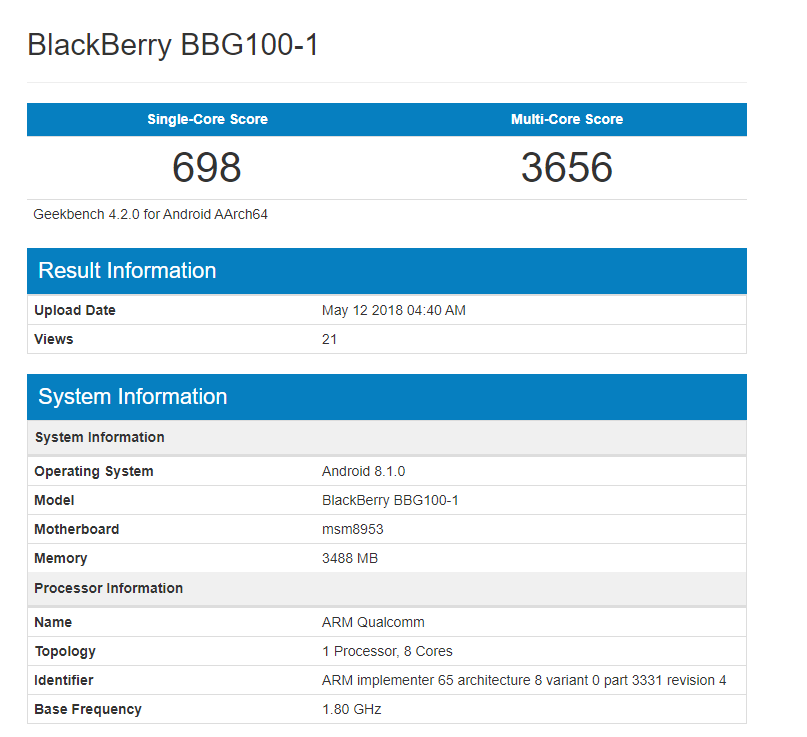 This is the first time the model number is showing up, so it is hard to tell which device it is. However, we have a guess as to the device it might be.
Apart from TCL, BlackBerry also licensed its brand to other companies. One of them is Optiemus Infracom, an Indian company, and BB Merah Putih – an Indonesian company. Only Optiemus hasn't released a phone since it got a license to release phones under the BlackBerry name. However, that will be changing this year.
READ MORE: BlackBerry KEY2 (Athena) Gets WiFi & Bluetooth Certification
Leaks have revealed that it will release two phones codenamed BlackBerry Ghost and BlackBerry Ghost Pro this year. We want to believe the BBG100-1 is the BlackBerry Ghost. But it will be disappointing as the BlackBerry Ghost has been described as a premium device. It appears it doesn't have premium internals.
There is also a chance we are wrong and this is not the BlackBerry Ghost but another phone entirely.