Photos of Xiaomi Mi 8 Poster And Retail Box Reveals A Few Specs & Blue Color Variant
by Habeeb Onawole ago0
This year, Xiaomi clocks 8, and to celebrate the milestone, Xiaomi will release a new phone on May 31. This new device has been named Mi 8 and will succeed the Mi 6 flagship from last year.
Ahead of the launch on Thursday, photos of the phone's retail box in addition to a poster have surfaced online. These new images reveal new details and confirm others.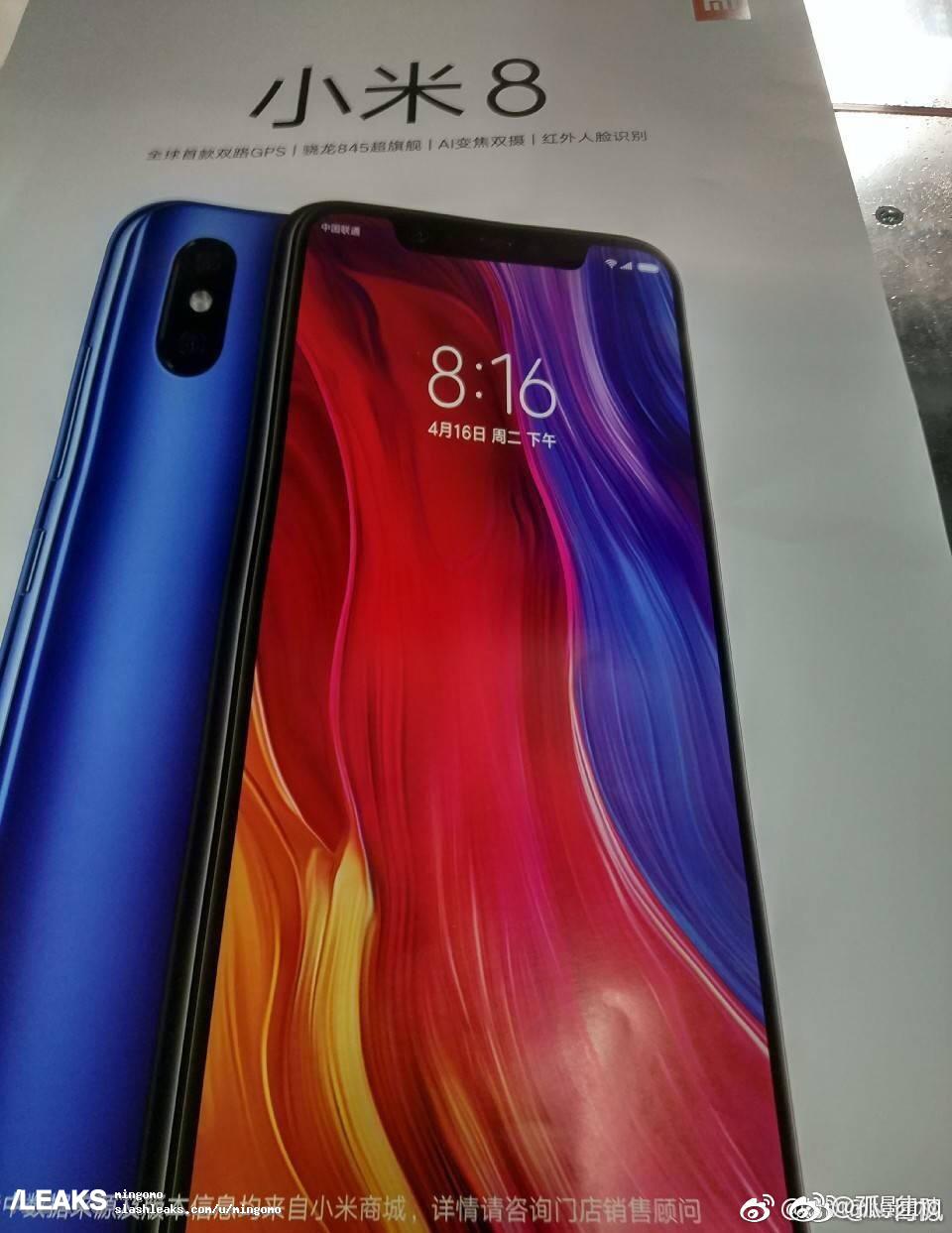 The poster shows the phone will come with a notch and may as well be the largest we have seen on a phone. It also shows the phone will come in blue and will have dual rear cameras. The rear cameras are arranged in the same fashion as that of the Mi MIX 2s.
The text on the poster also lists a few specs when translated. First, it says the Mi 8 will come with dual-frequency GPS. This is a new GPS receiver that provides a greater level of accuracy than what is currently available. The technology was announced at a conference last year by Broadcom.
According to Broadcom, the new receiver which works with GPS and other navigation satellite systems will now offer 30-centimeter accuracy instead of current 5-meter accuracy. It will also consume about 50% less power and enhance location-based services and apps for mobile phones, tablets, and wearables.
Broadcom's chip is called the BCM47755 and is said to start appearing in devices this year. We don't know if it is the one in the Mi 8 but the poster says the phone will be the first in the world to come with the new GPS technology.
The poster also confirms the phone will be powered by the Snapdragon 845 processor, have AI optical dual cameras, and 3D infrared facial recognition.
Photos of the retail box give us an early look at what consumers will get when they order the Mi 8. The box is black and there is a large figure 8 inscribed at the top. You also have Xiaomi Mi 8 written on the side.
The back is where the juicy details are. It reveals the phone will come with dual rear cameras, a 20MP front camera with face recognition, a Snapdragon 845 chipset and the GPS technology mentioned above. It also shows that the unit in the box has 6GB RAM and 64GB of storage.
READ MORE: Xiaomi Finally Lands In Italy With A Physical Store In Milan: Here Are The Products Launched
Other specs we can make out from the photo of the retail box includes a USB-C port/charger, a USB-C to 3.5mm audio adapter, and dual SIM support.
Are you excited about the Xiaomi Mi 8? Which feature are you looking forward to trying out first?