With the name of Vivo NEX, the concept phone Vivo APEX became real and entered the mass production. After a bunch of leaks revealing more than one variant of the upcoming phone and after the official launch confirmation was given by the company through a teaser image, three variants of the handset have just been spotted. The variants have just appeared on a 3C listing. In case you do not know, 3C is a Chinese agency that verifies the eligibility of products for the consumers market. The three versions are dubbed as Vivo NEX, NEX A and NEX S.
We already heard about the NEX S variant which has recently appeared on Geekbench, but we never heard about the NEX A until now. 3C did not reveal any of the main specs of the smartphone. From the listing, we can just acknowledge that they support 5V / 2A, 9V / 2A and 10V /2.25A charging profiles. According to speculations, the NEX A may be a China-exclusive variant of the upcoming device, while the other two variants will hit markets outside of China as well.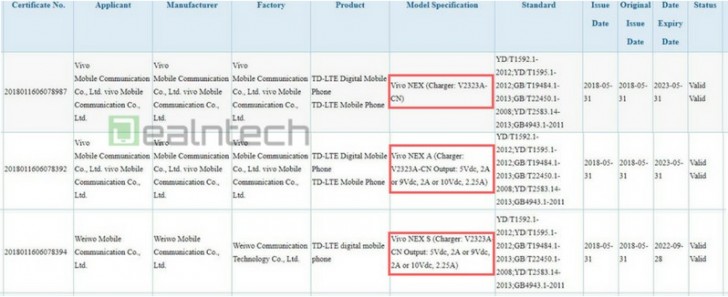 Vivo NEX will sport a borderless design with a screen-to-body ratio near to 100 percent. In order to achieve this, the company has decided to implement a "periscope" selfie camera which can be extracted in a fraction of second from the top side of the device. According to reports, the top-end variant will offer an octa-core Snapdragon 845 SoC by Qualcomm, 8 GB of RAM and 256 GB of internal storage, and it is expected to be launched with a listing price of more than $1000. But there will be also a more affordable variant with the new Snapdragon 710, 6 GB of RAM and 128 GB of storage. It is rumored to cost less than $800. Vivo will launch the NEX and its variants on June 12.