Xiaomi has recently released the Mi 8, Mi 8 Explorer Edition, Mi 8 SE, Redmi 6 and Redmi 6A smartphones in China and it is slated to unleash the Mi Max 3 phone in July. A recent report has revealed that the company may debut Redmi 6 Pro and Mi Pad 4 alongside the Mi Max 3. Apart from these devices, two new Xiaomi models have been certified by Federal Communications Commission (FCC) in the U.S. The listings reveal that these devices are running on MIUI 9.
The model numbers of the two Xiaomi devices that have been certified by FCC agency are M1804C3DG and M1804C3CG. It appears these could be the two variants of an upcoming Xiaomi phone.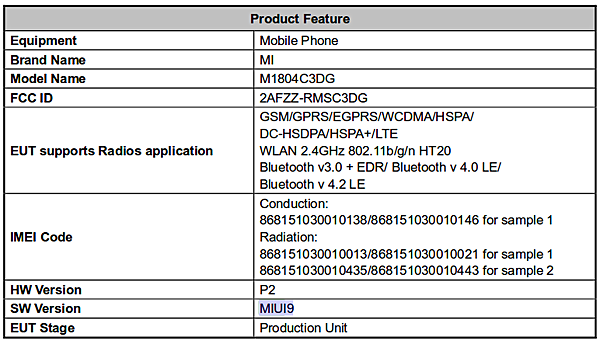 The listing reveals that the device is loaded with MIUI 9 and carries support for Bluetooth 4.2 LE and Wi-Fi 802.11 b/g/n. FCC documents also suggest that the device may arrive in 32 GB storage + 3 GB RAM and 64 GB storage + 4 GB RAM variants. This indicates that the M1804C3DG/M1804C3CG could be a mid-range phone. As of this writing, there is no information available on the identity of the newly spotted Xiaomi devices.
Read More: Xiaomi Removes Key Feature From Redmi 6 and Redmi 6A
The Xiaomi Mi Max 3 that is expected to debut soon has a model number of M1807E8S. A recent report has revealed that the model number of the forthcoming Mi Pad 4 tablet is M1806D9W. Also, the rumored Redmi 6 Pro phone has a model number of M1805D1SE. Since the M1804C3DG/M1804C3CG model numbers does not seem to belong to Mi Max 3, Mi Pad 4 or Redmi 6 Pro, there is a possibility that those devices could be the two variants of the upcoming Xiaomi Mi A2 Android One phone or some other Xiaomi device.