Vivo has recently launched the Vivo NEX flagship phone that includes various attractive features such as 92.4 percent screen-to-body ratio, huge notch-less screen, under-display fingerprint scanner and pop-up selfie camera. This shows that the company is well-focused towards launching smartphones with innovative features. The Vivo NEX is a good rival for the iPhone X. However, the one department where the iPhone X has an upper edge over the NEX is 3D facial scanning. Good news is that an industry insider from China has revealed that Vivo is now working on 3D structured light technology which suggests that it may launch an advanced phone with 3D facial recognition feature in the near future.
The leakster has claimed that Vivo has started developing TOF depth camera which can achieve similar functions as 3D structured light module. Hence, it is expected to support 3D depth mapping of the face for unlocking the screen. Also, users will be also able to authenticate payments through it.
In addition, the TOF depth camera has more advantages. First, the overall size of the module is small which suggests that the handsets featuring may not require a notch.
Second, it will be able to identify the face from a longer distance compared to traditional sensors. Also, it will be able to function accurately in different lighting conditions. Third, it is convenient to mass produce of TOF depth camera. This shows that Vivo may manage to deliver better 3D depth sensing than Face ID on iPhone X.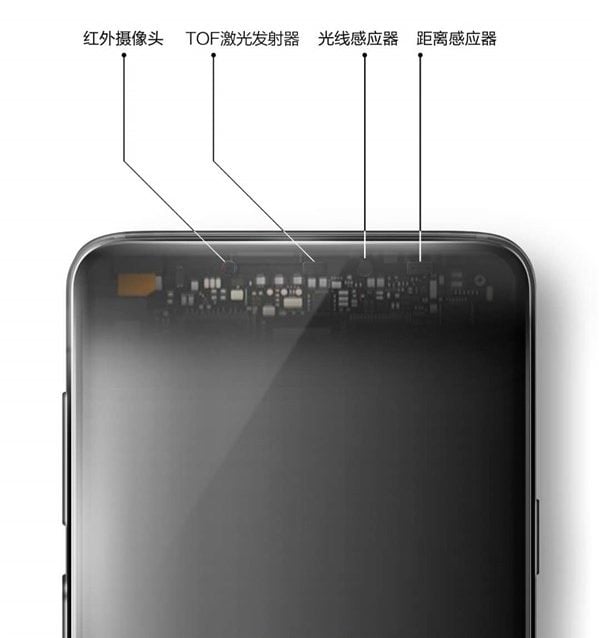 Here is a representational image that show the placement of TOF depth camera alongside other sensors such as proximity sensor and infrared camera at the top portion of the phone. As, the image suggests that these sensors can be embedded under the display. Hence, such a smartphone may not need a notch to house those sensors.
Read More: Vivo NEX India Launch Expected in July with Rs. 40,000 (~$587) Pricing
According to the tipster, Vivo will be unveiling its 3D facial recognition technology during the 2018 Mobile World Congress (MWC) Shanghai that will be held between June 27 and 29. There is a possibility that Vivo may launch a smartphone equipped with 3D facial scanning technology in the latter half of the year.
(via)