Upgrade To A TomTop VIP Member, Save Money and Make Money
by Vinay Patel ago0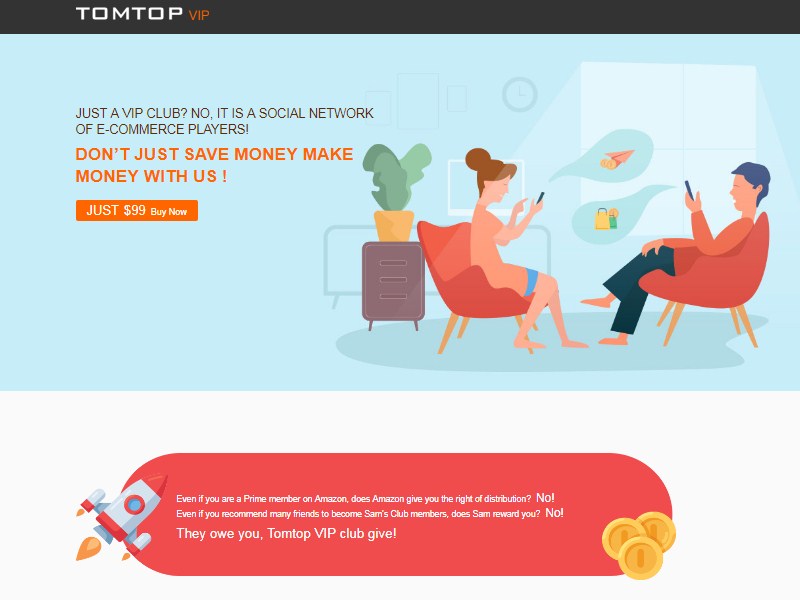 If you're an e-commerce player looking to not only save money but also make money, look no further. TomTop is offering an opportunity to make some bucks if you're willing to shell out just $99 a year.
It's no secret that being a member on Amazon doesn't give you the right to distribute. Likewise, recommending friends to become Sam's Club members does not grant some sort of reward, but TomTop VIP club guarantees to give its members a lot to cheer about.
What Can VIP Members Gain?
Aside from getting a considerable 10% discount for personal consumption, becoming a TomTop VIP member comes with a plethora of advantages. You get a rebate of 10% and a $49.5 reward when you recommend the TomTop VIP membership to your friends and family. Here's a detailed explanation of membership benefits.
First off, if you join TomTop VIP membership by paying $99 before July 30th, you'd be eligible to receive the gift package. Moreover, TomTop VIP members are also eligible to get a 10% off for their own utilization.
As if that weren't enough, you can share all products in TomTop VIP and receive 10% sales rebates. Moreover, you get a noteworthy $49.5 off the initial free reward when you recommend others to join the TomTop VIP club.
How It Works
You first need to sign up on TomTop VIP using an invite code and start a new store. Next off, you have to select products and categories that are interested in selling on your store.
Once your business starts, all you need to do is wait for customers to place orders. Alternatively, you can start inviting your friends to be a member of the TomTop VIP Club.
When the payment is confirmed, TomTop will check, pack and ship your orders directly to the buyer's door. You get $49.5 credits for each sponsorship and an opportunity to earn money for inviting new VIP member. You also earn up to 20% extra commission for every order you bring.
All you need to do is head straight to this link and upgrade to become a TomTop VIP member for only $99 a year. You can get one-year free membership extension if you join before July 30th.
Make Money With TomTop
Visit VIP Discount Products