The Hot Summer Deals And Summer Shopping Event Kicks Off On GeekBuying
by Vinay Patel ago0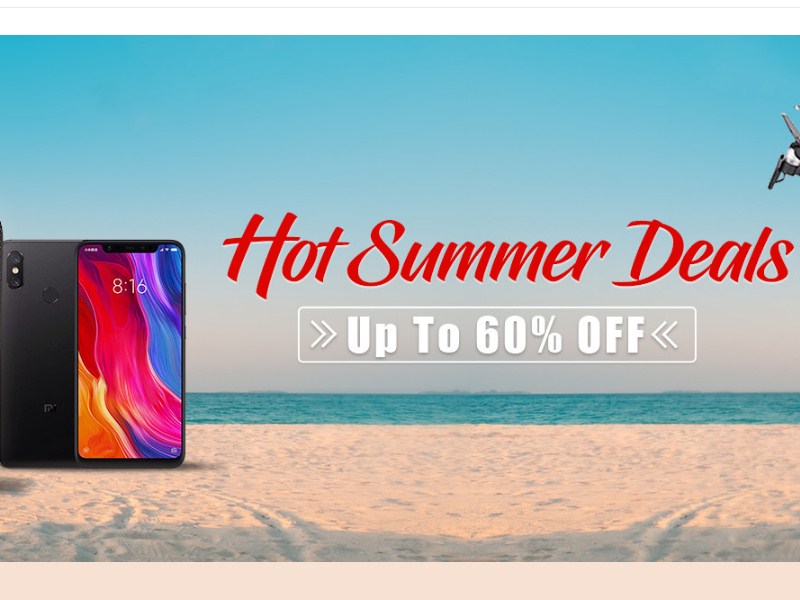 If you're a cost-conscious buyer looking for bargains that don't burn a hole in your pocket, look no further. GeekBuying is doling out a slew of unmissable discounts as part of its recently kicked off promos dubbed 'Hot Summer Deals' and 'Summer Shopping Event'.
With the Hot Summer Deals, GeekBuying is giving buyers an opportunity to get up to 60% off on a broad range of electronics and other items that would normally set you back a pretty penny on an online store. These products have been split into multiple categories in a bid to simplify the search process.
Under the Hot Sellers category, you can find the well-received Xiaomi Mi8 and the Xiaomi Mi Mix 2S smartphones along with the Tronsmart WC05 Wireless Charger and MJX Bugs 2 Brushless RC Quadcopter. More importantly, the aforesaid items are currently available at a reduced price.
For instance, you can pre-order the global version of the Mi8 smartphone at a dropped price of just $492.99. This is a considerable reduction in the phone's retail price considering it normally carries a steep price tag of $509.99 on GeekBuying.
Likewise, the Flash Deals category is brimming with heavily discounted items that feature the recently launched OnePlus 6 smartphone, HUAWEI Honor Play smartphone, the VISUO XS809 Mini 720P HD Wide Angle WIFI FPV Foldable RC and lots more. All the items featured in this section carry big discounts.
GeekBuying is offering a 16% off on the Xiaomi Mi8 SE smartphone, which would normally set you back  $379.99. The Chinese online store will be offering this discount for 10 days. Note that each item included in this promo come with a specific discount that is slated to end soon.
You can check rest of the categories and take advantage of the promo by heading straight to this link.


The GeekBuying Summer Shopping Event gives up to 70% off on products that have been divided into separate categories. This promo kicked off on Thursday, July 19th and it offers big discounts on a myriad of coveted products such as Xiaomi's coveted Mi Band 3 smartwatch, which is available in the Bestselling category.
The Mi Band 3 is the long-awaited successor to the well-received Mi Band 2 fitness tracker. It normally carries a price sticker of $66.99 but as part of the Summer Shopping Event promo, GeekBuying will be selling it for just $30.99. Regrettably, there were only 35 pieces of the Mi Band 3 left.
The Bestselling section has further been split into 4 subcategories including Smartphones & Tablets, TV Boxes & Smart Home, Outdoors & RC, and Wearables & Gadgets. While the category features numerous feature-laden devices that you can buy at the lowered price, the promo is slated to end on July 31st.
You can follow this link in order to check out the rest of the products and get the discounts on all products that usually carry steep price tags.
Get Up To 60% Off On GeekBuying
Get Up To 70% Off On GeekBuying