Huawei has introduced a new chipset this month and finally, there seems to be some progress in the company's mid-range lineup. Huawei Nova 3i is the most important improvement of this year if we consider the mid-end sector, but is it worth spending a bit more to get this new handset instead of the older Huawei P20 Lite which was the main Huawei mid-ranger until its arrival? Let's see it with a Huawei Nova 3i vs Huawei P20 Lite specs comparison.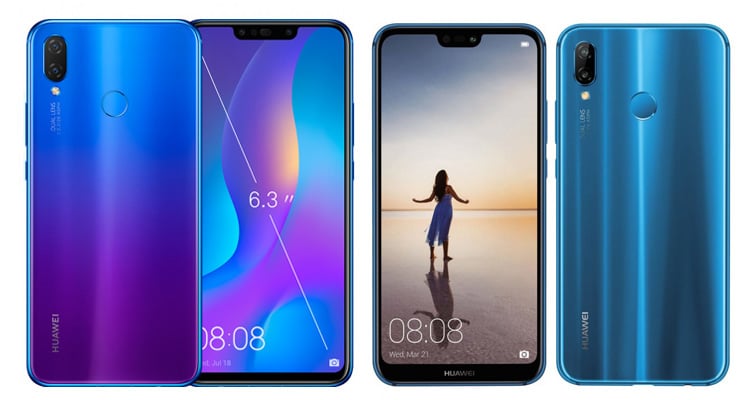 Huawei Nova 3i vs Huawei P20 Lite
Huawei Nova 3i
Huawei P20 Lite
DIMENSIONS AND WEIGHT
157.6 x 75.2 x 7.6 mm, 169 grams
148.6 x 71.2 x 7.4 mm, 145 grams
DISPLAY
6.3 inches, 1080 x 2340p (Full HD+), 409 ppi, 19.5:9 ratio, IPS LCD
5.84 inches, 1080 x 2280p (Full HD+), 432 ppi, 19:9 ratio, LTPS IPS LCD
PROCESSOR
Huawei HiSilicon Kirin 710, octa-core 2.2 GHz
Huawei HiSilicon Kirin 659, octa-core 2.36 GHz
MEMORY
4 GB RAM, 128 GB – 6 GB RAM, 64 GB, micro SD slot
4 GB RAM, 32 GB – 4 GB RAM, 64 GB – 4 GB RAM, 128 GB, micro SD slot
SOFTWARE
Android 8.1 Oreo, EMUI 8.2
Android 8.1 Oreo, EMUI 8.0
CONNECTIVITY
Wi-Fi 802.11 b/g/n, Bluetooth 4.2, GPS
Wi-Fi 802.11 b/g/n, Bluetooth 4.2, GPS
CAMERA
Dual 16 and 2 MP f/2.2
Dual 24 and 2 MP front camera
Dual 16 and 2 MP, f/2.2
16 or 24 MP f/2.0 front camera
BATTERY
3340 mAh
3000 mAh
ADDITIONAL FEATURES
Hybrid Dual SIM slot
Hybrid Dual SIM slot
Huawei Nova 3i vs Huawei P20 Lite: Design
First of all, there is a slight improvement in the design, even though Huawei Nova 3i is aesthetically similar to Huawei P20 Lite. The new handset has trimmed bezels compared with its predecessor, and it is also available in gradient hues, unlike the P20 Lite. Further, Huawei Nova 3i has a glass back, while the P20 Lite has a plastic back. For the rest, it is more or less the same, but Huawei Nova 3i is definitely more beautiful and well-made than its opponent.
Display
Both Huawei Nova 3i and Huawei P20 Lite have displays with a notch included, but the Nova 3i has a bigger 6.3-inch panel which may be very useful for people using the smartphone for productivity and multimedia. A 6.3-inch display is much more comfortable to use but it also results in a bigger phone. Indeed, the Nova 3i is bigger, heavier and even thicker than its opponent. Due to minimal differences in the viewing quality, I would surely pick the Nova 3i because of its bigger screen.
Huawei Nova 3i vs Huawei P20 Lite: Specs & Software
Under the hood, Huawei Nova 3i has more recent and powerful hardware than the P20 Lite. It has the new octa-core Kirin 710 chipset which is an improvement over the overused Kirin 659. So, it should provide evidently better performance. Further, it has more RAM in the most expensive configuration. There is no challenge under this point of view: Huawei Nova 3i wins.
Huawei Nova 3i vs Huawei P20 Lite: Camera
Even when it comes to the camera department, Huawei Nova 3i is better, but differences are marginal. With the dual rear camera having exactly the same specs, the only difference is represented by the front camera setup which consists of a dual selfie camera (with 24 and 2 MP resolutions) for the Nova 3i and a 16 or 24 MP single camera (depending on the market) for the P20 Lite. Huawei Nova 3i can shoot more interesting selfies by detecting depth info in a more accurate way.
Battery
Given its bigger dimensions, Huawei Nova 3i has a bigger battery, and this means a longer battery life. It has 340 mAh more capacity and it has even the GPU Turbo technology out of the box which can provide up to 30 percent more power efficiency. On the other hand, with a smaller battery on board, the Huawei P20 Lite should charge faster as both the devices feature a fast battery charging technology.
Huawei Nova 3i vs Huawei P20 Lite: Price
Huawei Nova 3i has just been launched, so it is still available at a pretty expensive price. You can currently get it for €350 which roughly translates into about $407. Huawei P20 Lite is currently way cheaper and it can be found at less than €278 thanks to online street prices, which roughly translates into $323. Huawei Nova 3i is obviously the winner of the comparison thanks to its more beautiful design, its more advanced hardware, and its bigger battery. But in the actual situation, we suggest you go for the P20 Lite due to its more affordable price tag. If it is not urgent for you to get a new handset, then wait a month or so for the price of the Nova 3i to drop, and it will be worth getting it.
Huawei Nova 3i vs Huawei P20 Lite: PROs and CONS
Huawei Nova 3i
PROs
Better design
Bigger display
More powerful hardware
Bigger battery
CONS
Huawei P20 Lite
PROs
More affordable
Smaller dimensions
Cameras almost at the same level
Wider availability
CONS
Worse build quality and hardware