The Honor Note 10 and OnePlus 6 are among the best choices among value for money flagships under $600. The former is the biggest flagship phablet out there in 2018, while the latter is one of the most powerful phones ever thanks to its top-end hardware side and excellent software optimization. Which one is more suitable for an advanced user? We will try to let you know in this Honor Note 10 vs OnePlus 6 specs comparison.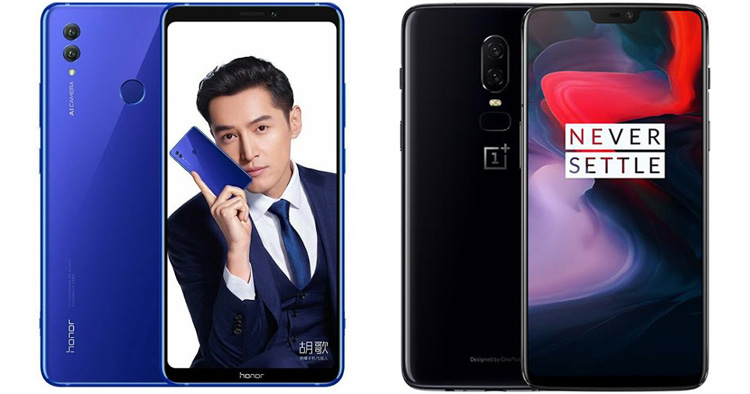 Huawei Honor Note 10 vs OnePlus 6
Huawei Honor Note 10
OnePlus 6
DIMENSIONS AND WEIGHT
177 × 85 × 7.7 mm,

230 grams

155.7 x 75.4 x 7.8 mm,

177 grams

DISPLAY
6.95 inches, 1080 x 2220p (Full HD+), 355 ppi, 19:9 ratio, AMOLED
6.28 inches, 1080 x 2280p (Full HD+), 402 ppi, 19:9 ratio, Optic AMOLED
PROCESSOR
Huawei HiSilicon Kirin 970, octa-core 2.4 GHz
Qualcomm Snapdragon 845, octa-core 2.8 GHz
MEMORY
6 GB RAM, 64 GB – 8 GB RAM, 64 GB – 8 GB RAM, 128 GB, micro SD slot
6 GB RAM, 64 GB – 8 GB RAM, 128 GB – 8 GB RAM, 256 GB
SOFTWARE
Android 8.1 Oreo, EMUI 8.2
Android 8.1 Oreo, OxygenOS 5.1.9
CONNECTIVITY
Wi-Fi 802.11 a/b/g/n/ac, Bluetooth 4.2, GPS
Wi-Fi 802.11 a/b/g/n/ac, Bluetooth 5.0, GPS
CAMERA
Dual 16 MP + 24 MP f/1.8
13 MP f/2.0 front camera
Dual 16 + 20 MP f/1.7
16 MP f/2.0 front camera
BATTERY
5000 mAh
Fast charging 4.5V / 5A
3300 mAh
ADDITIONAL FEATURES
Hybrid Dual SIM slot
Dual SIM slot
Honor Note 10 vs OnePlus 6: Design
Both Honor Note 10 and OnePlus 6 boast an impressive design with a glass back and an aluminum frame like the most premium flagships. But I would personally pick OnePlus 6 for two reasons which are not related to individual preference. First, thanks to its notch, it features a higher screen-to-body ratio (but not everyone likes the notch and you may be among the ones hating it). Secondly, OnePlus 6 is splash resistant (no IP certification given), while Honor Note 10 does not provide any protection against water.
Display
Talking about displays, Honor Note 10 is way more interesting as it is equipped with a huge 6.9-inch screen, the biggest panel with a tall aspect ratio ever seen on a smartphone. It also supports AMOLED and HDR10 technologies, providing stunning viewing quality. It is a comfortable display for multimedia, multi-tasking, and games. But note that, even though it has very narrow bezels, it makes the smartphone much bigger than its opponent. Due to its dimensions, Honor Note 10 is not a smartphone for everyone.
Honor Note 10 vs OnePlus 6: Specs & Software
On the paper, OnePlus 6 wins the performance comparison thanks to its Snapdragon 845 chipset, up to 8 GB of RAM and blazing speeds in every scenario. But Honor Note 10 has still a great flagship-level hardware composed of a Kirin 970 SoC and up to 8 GB of RAM. It is optimized for gaming thanks to its GPU Turbo technology which raises performance by up to 60%, but we think OnePlus 6 remains a better phone when it comes to performance. However, we will have to test the Honor Note 10 for a definitive confirmation. OnePlus 6 comes with a stock Android experience (OxygenOS), while its opponent has the highly customized EMUI. In general, its hard to pick out a definitive winner in this section since both are powerful phones.
Honor Note 10 vs OnePlus 6: Camera
The camera side seems better on the OnePlus 6 on the paper, even though we still had no chance to see a good amount of camera samples taken from the Honor Note 10. But OnePlus 6 has a brighter aperture and provides stunning detail in almost every light condition, so we doubt that Honor Note 10 will even get close to its opponent. Further, the OP6 features OIS and even 4K videos are stabilized.
Battery
OnePlus 6 is just an average battery phone with its capacity of just 3300 mAh. OnePlus never aimed to provide a very long battery life but it prefers to focus on the thickness by equipping its devices with a "one-day battery". On the other hand, Honor Note 10 has a big 5000 mAh unit thanks to its big size allowing its presence. So, it will last way more than its opponent. On the other hand, OnePlus 6 charges faster thanks to its Dash Charge technology and obviously the smaller battery.
Honor Note 10 vs OnePlus 6: Price
Honor Note 10 is currently available only in China and its price starts from $452. OnePlus 6 costs €519 worldwide and about $503 in China. So, there is not a big difference in prices. Further, I am unable to pick a winner of the comparison which could be suitable for every kind of user. If you like bigger displays and you do not mind about having a very big device, then you should go for the Honor Note 10. But OnePlus 6 has better performance as well as a better camera department. If you are a gamer, the OnePlus 6 may apparently look the best choice, but the liquid cooling system included in the Honor Note 10 and the way longer battery life make it more suitable even for many gamers.
Which one would you personally pick?
Huawei Honor Note 10 vs OnePlus 6: PRO and CONS
Honor Note 10
PROs
Bigger display
Powerful hardware
Longer battery life
Attractive design
CONS
OnePlus 6
PROs
Great hardware
Very nice cameras
Good display
Wider availability
CONS