Huawei uses DSLR for Nova 3i camera samples, busted by its own brand ambassador
by Habeeb Onawole ago0
Huawei has been caught in an advert mess of its own doing. The manufacturer was "caught" using a DSLR in place of its own phone, the Nova 3/Nova 3i in this case for camera samples in a video ad.
The 30-second video ad which features Egyptian actress, Sarah Elshamy, has her significant trying to take a selfie of her while she tries to apply her makeup before he does. In the completed ad, the scene is to actually show off the AI beauty feature of the camera which takes beautified pictures of you that appears as if you have make-up on.
Unfortunately, behind-the-scenes pictures posted by the actress on her Instagram page shows that in this particular scene, the man is actually not holding the Nova 3 or Nova 3i. He's not even holding anything in this "selfie-taking position", rather there is another man with a DSLR camera at an angle that makes it appear as if a selfie is being taken.
We probably wouldn't know that there was no actual selfie if not for Ms. Elshamy but seeing as a feature of the phone which may convince buyers to purchase the phone is being advertised and it has been revealed that the selfie was not taken by the phone, prospective buyers may not be so eager to buy any of the two phones anymore.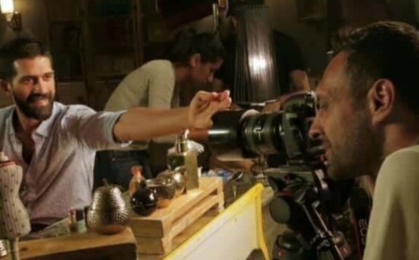 Ms. Elshamy has since deleted the picture but the damage has been done already. Huawei will most likely offer an explanation and an apology as to what happened and might even throw in a freebie or discount to entice customers but the deed has been done already.
READ MORE: Huawei Mate 20 to come with water-drop notch, triple rear cameras and more
Huawei is not new to this "not-totally-honest advertising". It has been caught in the past passing of DSLR photos as camera samples of the Huawei P9 and also photoshopping the bezels on the marketing photos for the Huawei P8 and P8 Max.
(Via)