Nokia smartphone maker HMD Global now owns the 'PureView' trademark
HMD Global, the company behind the new Nokia smartphones, has now got the "PureView" trademark back from Microsoft. According to the European Union Intellectual Property Office (EUIPO) listing, the trademark ownership has now been transferred from Microsoft to HMD Global on August 23.
PureView debuted in the year 2012, when Nokia presented to the world the Nokia 808 PureView at Mobile World Congress 2012, a camera monster at that time, and still the phone with the biggest image sensor in the history of the mobile industry. Later, the PureView branding was applied to the Lumia 920, 1020, 1520, and later the Microsoft Lumia 950.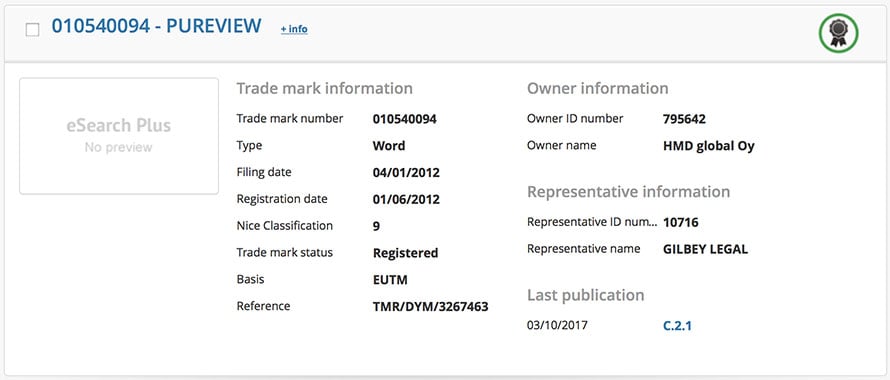 With 'PureView' now in the hands of HMD Global, we could see a Nokia smartphone with PureView branding in the near future. The Finnish company could also adopt PureView for the upcoming Nokia 9 flagship smartphone, but that's just a speculation. There's no official communication from the company regarding the usage of the PureView trademark.
Along with the PureView trademark, the company has also registered a new trademark for "Dual Sight" which we assume is for the Bothie feature of Nokia smartphones which enables users to take images from the rear as well as the front-facing camera at the same time.
HMD Global also owns a few other brands that Nokia had earlier introduced, including Asha and Xpress-On. The company has not used the Asha brand and the Xpress-On brand has been used only for the interchangeable back cover for Nokia 1 phone. Point being, HMD owning the PureView brand doesn't necessarily mean that we'll see it in the near future on a mobile device.
Read More: Nokia X7 front panel image leaked; Could be Snapdragon 710 powered Nokia Phoenix
We recently heard some speculation that HMD could use Light's Penta-lens camera setup on its mobile devices, and maybe the PureView brand will debut with that Penta-lens device. PureView was about the best camera performance and if HMD Global decides to use the PureView brand, the company needs to make sure the phone features the best camera experience.
(Source)