At the IFA 2018 in Berlin, Casio has announced the Casio Pro Trek Smart WSD-F30 smartwatch as the successor of the WSD-F20 watch that was unveiled in 2017. The WSD-F30 is a rugged smartwatch like its predecessor and it offers an impressive battery life of lasting for up to 30 days on a single charge.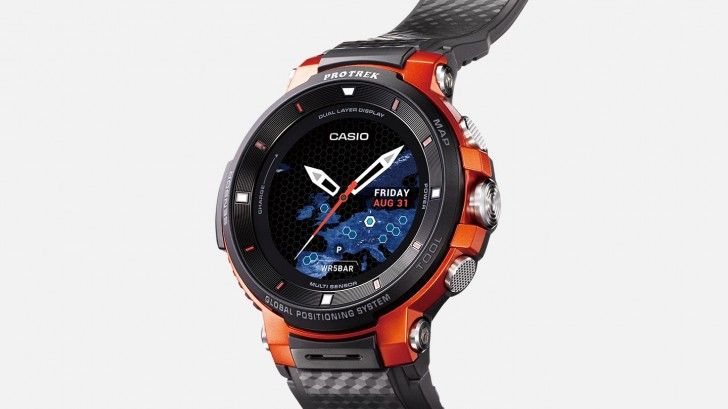 The Casio Pro Trek Smart WSD-F30 is MIL-STD-810 rated smartwatch that offers up to 50 meters of water-resistance. The smartwatch is equipped with a 1.2-inch OLED display that supports 390 x 390 pixels resolution. Over it is a monochrome LCD panel that shows information like time, atmosphere pressure / altitude and compass bearing. The case of the smartwatch measures 60.5 x 53.8 x 14.9mm and it is 3.9nm narrower and 0.4mm slimmer than the predecessor model.
The WSD-F30 runs on the Android Wear OS and it offers users with exclusive apps for activity tracking, swimming, fitness, horse riding, snowboarding, golfing, skiing and fishing. It is fitted with numerous sensors such as GPS, barometer, accelerometer, compass and gyroscope.
There is a mode called Multi Timepiece Mods that allows the LCD panel to display time while the color display is turned off to save battery power. This allows the phone to last for up to 30 days. In normal use, the WSD-F30 can last for up to 1.5 days on a single charge. The Extend Mode turns on the standby mode to save battery consumption. It allows the smartwatch to run for up to three days by showing offline color maps and GPS when its LCD panel is used for showing time and measurement data. It is equipped with connectivity features such as Bluetooth 4.1 LE and Wi-Fi. The device also carries support for wireless charging.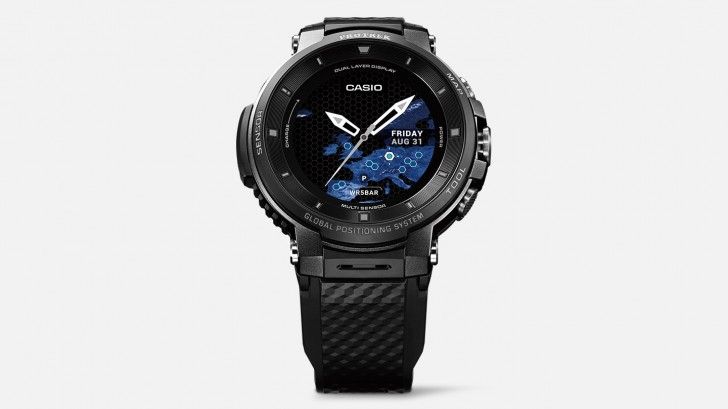 Read More: Casio Pro Trek WSD-F20S, a Limited Edition Smartwatch Announced With Premium Features
The Casio Pro Trek Smart WSD-F30 smartwatch can be bought in colors like orang, blue and black. The company is yet to confirm on the price tag of its new smartwatch. The pricing could be declared later this year as its shipments are slated to begin in January.