Buy Bakeey-Branded Smart Watches And Watch Accessories At Unbeatable Prices On Banggood [Coupon]
by Vinay Patel ago0
If you're a fitness-conscious person who fancies keeping a track of your health and various other activities without spending a lot of money, you've come to the right place.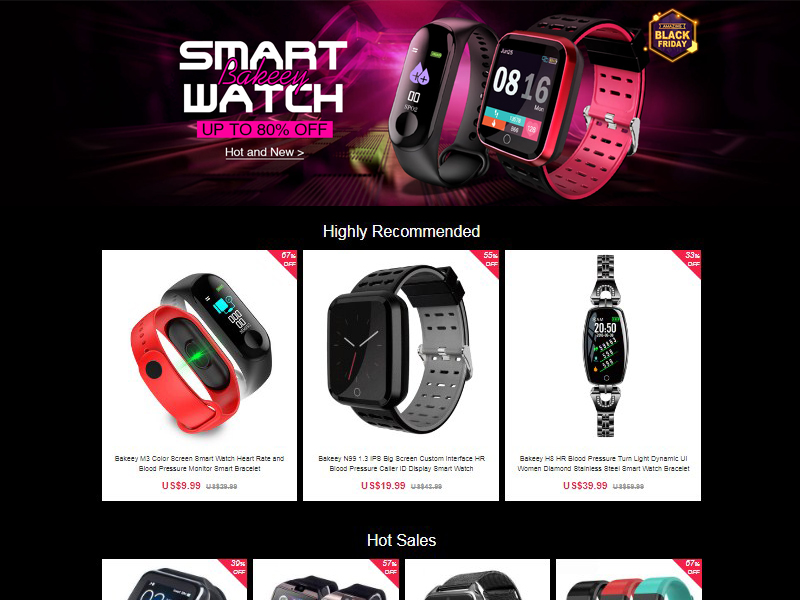 As part of its recently kicked-off promotion sale, Banggood is now offering a wide selection of smartwatches and watch accessories at unbeatable prices. On top of that, the Chinese online store is giving cost-conscious buyers an opportunity to get an extra 10% off on Bakeey-branded watch accessories.
The promo has been split into different categories so that buyers can easily what they're looking for.
The 'Highly Recommended' section features the Bakeey M3 smart bracelet, the Bakeey N99 smartwatch, and the Bakeey H8 HR blood pressure smartwatch bracelet for women. More importantly, the aforesaid smart devices are currently available at considerably lowered prices.

You can find a myriad of Bakeey-branded smartwatches and smart bracelets under the 'Hot Sales' category. The section includes Bakeey's X6, Q18, the B05 and other well-received smart bracelets that you can buy without emptying your pocket. The Bakeey Z60 smartwatch; however, carries its original selling price of $16.99.
Alternatively, you can take a gander at some recently introduced smart wearable devices under the 'New Arrival' category. The section is graced by the presence of the coveted Bakeey A6, the M30 and a few other smartwatches that have gone up for sale bearing heavily discounted price tags on Banggood.
If you're in the market for Bakeey watch accessories, you might want to head straight to the last section called 'Bakeey Watch Accessory.' Aside from taking advantage of the regular discounts that Bakeey is offering on these watch accessories, you can use coupon code 471f27 to get an extra 10% off.
For instance, the Bakeey Anti-lost Design Mesh Stainless Steel Watch Band for Mi Band 3 would normally set you back $29.99 on online and offline stores, but you can now buy for just $12.99 on Banggood. You can extend this 57% discount by using the aforesaid coupon to get an extra discount.
You end up saving an extra $1.30 after applying the coupon and your grand total reduces to only $11.69. You can click here to check out the promotion page and take full advantage of the big discounts before the promo wraps up. Note that the coupon is slated to expire on December 31st.
Get Big Discounts On Bakeey Smartwatches And Smart Bracelets
Download Banggood App To Get A 10% Off App Coupon