Pre-Order Bakeey ID115 Plus For Only $8.99 On Banggood [Coupon Inside]; Get Up To An Extra 80% Off On Other Smartwatches
by Vinay Patel ago0
Fitness purists who fancy keeping a track of their health and monitor their activities usually end up spending a considerable amount of money on fitness gadgets.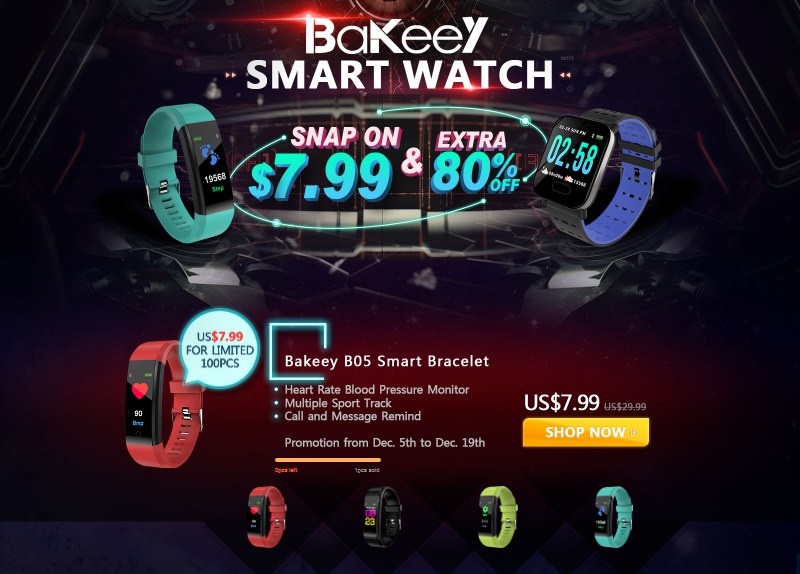 Known for offering a wide selection of cost-effective, yet feature-laden fitness devices, Bakeey has now teamed up with Banggood to offer a wide selection of their well-received smartwatches and fitness bands at unbeatable prices. The 'Bakeey Sale' event gives buyers an opportunity to get an extra 80% off and grab an unmissable snap-on deal.
The B05 is an irresistible smart sports bracelet that has gone up for sale carrying a lowered price tag of only $9.29 on Banggood. While this is a noteworthy 69% reduction in the device's original asking price of $29.99, Bakeey is giving first 100 lucky buyers a chance to get this coveted fitness gadget for just $7.99.
The Bakeey B05 comes in four color versions including red, light blue, purple and black. Regrettably, the promotion will be valid only until December 19th.
Likewise, you can get your hands on the equally well-received M20 sports smartwatch for a lowered price of just $12.99. The Bakeey H8 smartwatch also carries a 38% discount that reduces its original asking price of $59.99 down to only $36.99, but this promo is slated to end on December 11th.
Bakeey ID115 Plus Smart Watch
If you are in the market for a trendy movement bracelet that doesn't cost a bomb, the ID115 Plus smartwatch from Bakeey might just fill the bill. The device boasts a new generation of intensely hued screens, coupled with bright colors to deliver an unparalleled visual experience.
The ID115 Plus smartwatch sports a big 0.96 Inch TFT color display with a screen resolution of 80 x 160 pixels.  Moreover, the device comes with a heart rate monitor, blood pressure monitor, blood oxygen monitor and a slew of other special features along with multi-sport modes.
While you'd normally associate a steep price tag with a smartwatch offering comparable features, you can now pre-order the ID115 Plus smartwatch if you are willing to shell out only $16.99. This is a 43% drop in the device's retail price of $29.99.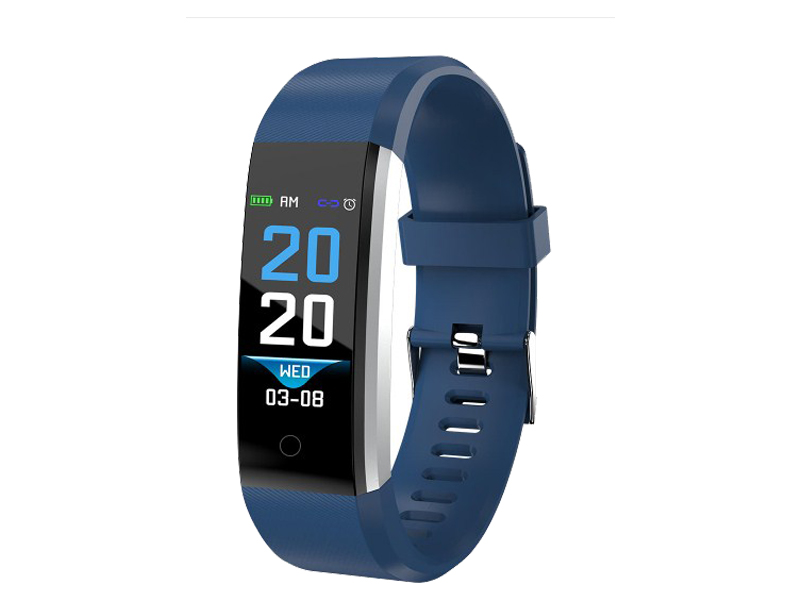 Aside from taking advantage of the aforesaid discount, you can use coupon code ID115P and get an extra $8 before proceeding to check out. In other words, the aforesaid coupon helps you bring your already lowered grand total down to just $8.99.
If you are interested in taking advantage of this discount, which will be valid for the green, blue, red, purple and black color versions of the ID115 Plus smartwatch, all you need to do is to follow this link. With 179 pre-orders placed at the time of writing, the expected processing time for shipping is December 13th.