AnTuTu reveals Chinese fans' most loved iOS products in November
Apart from providing benchmark data which gives us an idea of the performance of a phone or tablet, AnTuTu is also a reliable source of data on the most popular product running latest processor or the latest Android version as well as the best phone going by users' rating. The benchmark firm recently released the top rated ten phones in the Android category and alongside that the top 10 highest rated iOS products for November have also been revealed.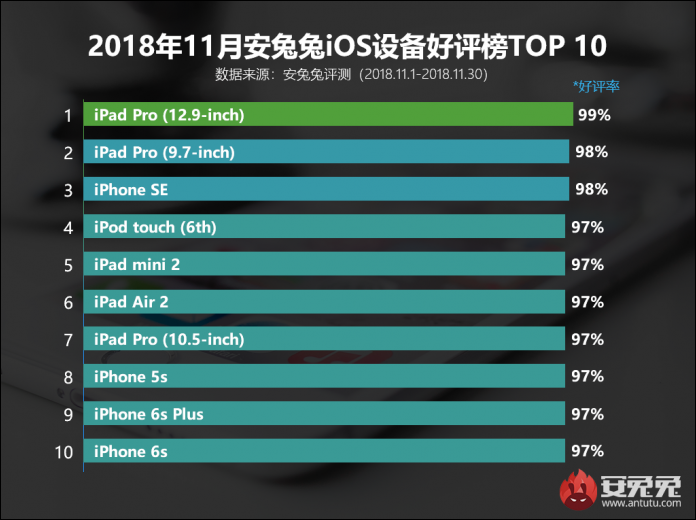 The data were collected on the AnTuTu app between November 1 and November 30 and only represents iOS products or users in China. Top on the list is the 12.9-inch Apple iPad Pro with a positive rating of 99%. This is consistent with the slate's performance for October and the reason for this rating can't be far from its excellent hardware and software performance. The 9.7-inch iPad Pro and iPhone SE both jointly come in at the second spot with a 98% rating.
Read Also: AnTuTu's list of top 10 most popular Android smartphones for November released
In addition to the already listed products, the sixth-generation iPod Touch, as well as the iPad Mini 2, iPad Air 2, 10.5-inch version of iPad Pro, iPhone 5s, iPhone 6s Plus and iPhone 6s all make the top 10 most loved models with an average rating of 97%. Wondering about the fate of the three latest Apple iPhones? The trio comes with a positive rating of 89% for the iPhone XS and XS Max as well as 84% for the iPhone XR. Last year's iPhone X flagship is also pretty popular among Chinese fans with an 89% rating.
(source)