Worldwide smartphone shipments to decline 3% in 2018, will return to growth in 2019: IDC
According to the latest report from International Data Corporation (IDC), the worldwide smartphone shipments are expected to decline by 3 percent in 2018 before returning to low single-digit growth in 2019 and through 2022.
While the on-going U.S.-China trade war has the industry on edge, IDC believes that continued developments from emerging markets, mixed with potential around 5G and new product form factors, will bring the smartphone market back to positive growth.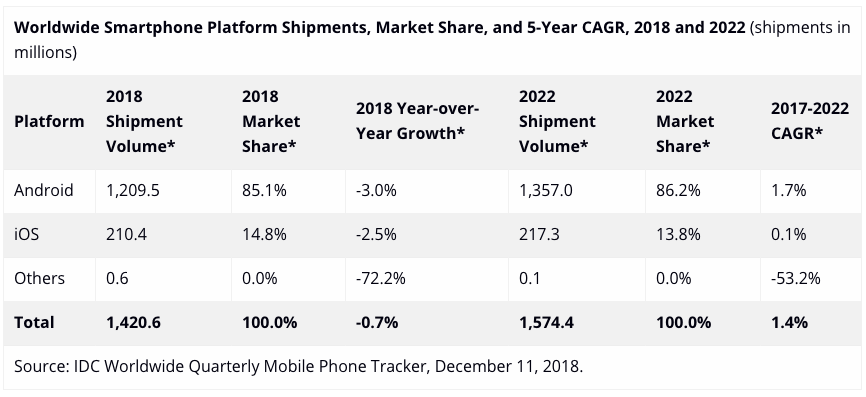 As per the report, the smartphone shipments are expected to drop to 1.42 billion units in 2018, down from 1.47 billion in 2017. However, IDC expects year-over-year shipment growth of 2.6 percent in 2019. Over the long-term, smartphone shipments are forecast to reach 1.57 billion units in 2022.
The Chinese market, which represented around 30 percent of total smartphone shipments in 2017, is now showing signs of recovery. However, it is still forecast to be down 8.8 percent in 2018 — worse than the 2017 downturn but is expected to have a flat 2019 and then back the to positive territory through 2022. The U.S. market is also forecast to return to positive growth in 2019 after experiencing a decline in 2018.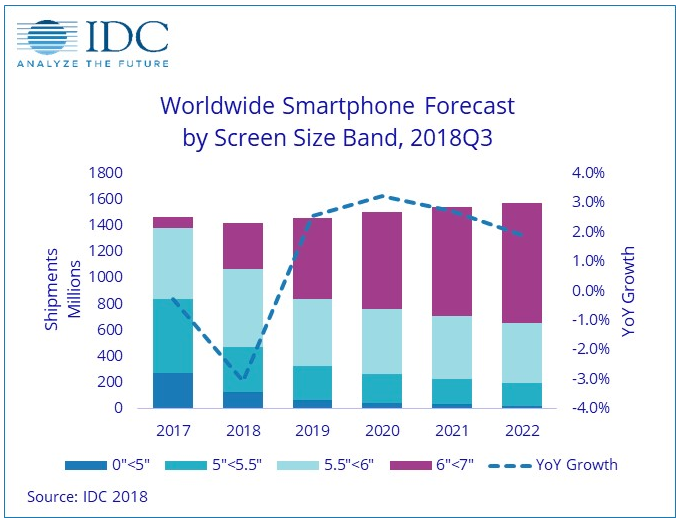 The report adds that in Q3 2018, the 6-inch to less than 7-inch screen size band became the most prominent band for the first time with more than four times year-over-year growth. The research firm believes that larger-screen smartphones will lead the charge with volumes of 947.1 million in 2018, accounting for 66.7 percent of all smartphones, up from 623.3 million units and a 42.5 percent share in 2017.
Read More: Xiaomi President hints 48MP camera smartphone launch in January; Could it be the Xiaomi Mi 9?
It further reports that by the year 2022, shipments of these larger-screen smartphones will move up to 1.38 billion units or 87.7 percent of overall shipment volume. As per the IDC forecast, Android's smartphone share will remain stable at 85 percent while the iOS smartphones are forecast to drop by 2.5 percent in 2018 to 210.4 million.