Newman N1, the smartphone with MTK677 chipset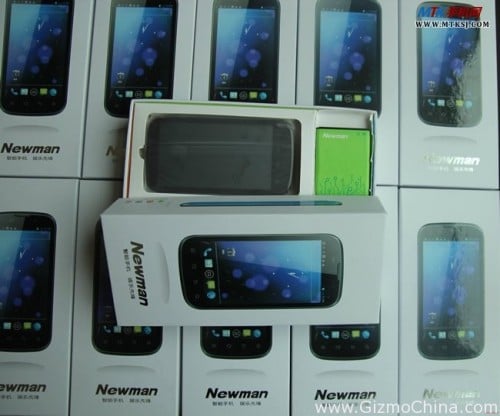 Newman phone official exposure the Newman N1 latest real machine the packing, you can see from the figure, Newman N1 packaging with a classic rectangular design, the front Newman N1 pictures and the gilt Newman.

Android logo at the back of the box is the android regular robot, the bottom is printed with contact information. open the cover, you can see Newman N1, the real capacity of the battery of the phone and green packaging in the first layer, it is estimated that the following cable and charger brochures and other things.
From Newman phone official website a few days a series of actions, Newman N1 is estimated to soon meet with you, the price of 899 yuan, attractive to the letter 1G MTK6577 dual-core processor, 1GB RAM, 8 megapixel cameras, it is estimated that many people heart.
We also look forward to Newman, the official network of the further message. Newman official Bo said Newman N1 has been to the final stage, is not difficult to guess, is the fast amount of capacity listed on sale a like Newman N1 friends may wish to prepare good notes, etc. forward to doing the happy "mice"!
Newman N1 approximate parameters: MTK 6577 dual-core processor 1G, 4.3-inch IPS screen resolution of 960 x 540 QHD display, bring the clear mission of a dazzling display of memory to run, 1GB RAM and 4GB ROM combination to ensure the ANDROID 's smooth running 4.0.4 Ice Cream sandwich, 0.3 megapixel front facing camera support for 3G video calls, the latter equipped with an AF 8.0MP high-definition cameras on the back, more light sensor, gravity sensor, and magnetic sensor.