Bo Cheng D16, 13.3-inch notebook MacBook Air Knock-Off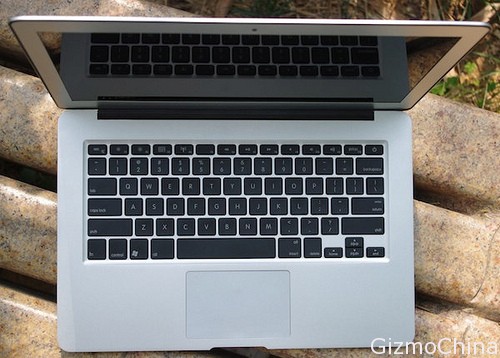 We've find the ultra-slim 13.3-inch laptop, has Macbook air metal appearance with unibody design, thats a real machine but note MacBook Air, just Bo Cheng D16 as MacBook Air knock-off.
A comprehensive understanding of this amazing product from Shenzhen Bo Cheng Albert Model D16. D16's appearance is the biggest bright spot, and has a smae size and form factor design with Macbook Air 13 inch with 4-19.4 mm thickness, while D16 has 5-20.4mm, the overall thickness of about 1mm different and 1.33kg weight
Bo Cheng D16 laptop configuration is also not very powerful as MacBook Air, D16 using a new generation of Intel Atom N2800 processor with 2G DDR3 memory, built-in the SSD, but the performance goes good enough than the average netbooks on the market.
Detailed hardware parameters: Atom N2800 1.86GHz processor, 2G DDR3 memory, 32G solid state drive, 13.3-inch LED backlit display with a resolution of 1366 * 768 pixel, 4100 mAh battery capacity, 1080P HD decoding. Two USB expansion port, HDMI output, multi-function memory card slot, high-definition camera, supports Bluetooth, RJ45 port and VGA port.
Unfortunately, there is no thunderbolts ports and off-course no lightning Apple logo on the screen body, there is no MacOS X systems but you can try to install Mac OS X skin for Windows or Linux if you want.