Sony Xperia Tablets, mix tablet between Surface and iPad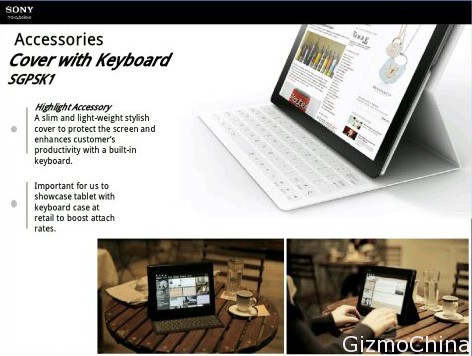 German site, Mobiflip published photographs of Sony Tablet's successor to the tablet at a glance very similar to Microsoft's Surface. Tablets that are thinner, lighter, more powerful and it will apparently be named Xperia Sony Tablet.

There are many improvements to its predecessor, including the Tegra processor 3; Android 4.0, the storage of 16GB, 32GB, or 64 GB; 3G connectivity, and battery 6000Mah better for browsing with Wi-Fi for 10 hours.
Sony says that 8.8 mm-thick tablet Xperia 42 percent thinner than the Tablet S. No less interesting is the keyboard that also functions as a cover, just Microsoft Surface. Sony makes the keyboard is to wrap the whole tablet, and the folds in the back to eliminate the need for a buffer. Sony like the idea of combining Microsoft and accessories made by Apple iPad Smart Cover.
The keyboard cover is expected to be priced at USD99, 99, while the tablet itself is in the range of USD449, 99 for the 16GB model, USD549, 99 for 32GB, and USD649, 99 for the 64GB model or $ 50 cheaper than the iPad for each type.
Unfortunately, no information about the released of those tablet. While Sony Tablet S previously launched in the third quarter of 2011.