Pics of iPad Mini leaked on the Net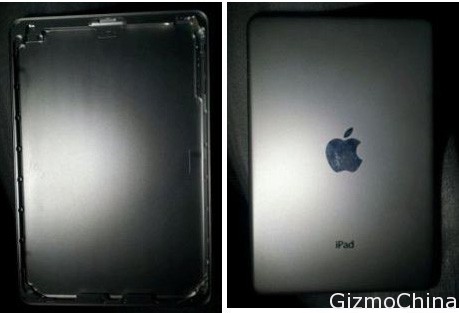 In addition about the rumors of iPhone 5, Apple's new products are now awaited his presence is a smaller iPad device also known as iPad Mini.

As usual, Apple is still shut-off their mouth, and didn't telling about how the shape and features on the device. But there is leaked photo on the net, show about the iPad Mini.
Even some of them appear not only with issues of iPad Mini specification, but also to bring the leak picture of that device.
As reported by China website Apple.pro some time ago, the site is to make a scene after posting some images believed to be an appearance of iPad Mini.
In the picture can be seen that this device comes with a front camera. It also comes with the legendary Apple logo on the back. While the width of the screen is likely in the range of 7 inch, or smaller than the previous iPad which has 9.7 inch display.
Later, rumors about the launch of the iPad Mini and iPhone 5 is getting stronger. Reportedly, the latest gadgets that Apple will be released in September 2012.
Measures approximately 7 inch iPad is reportedly going to be marketed at a cheaper price, about $200, to fight Android tablet form factor such as Google Nexus 7 or Amazon Kindle Fire.
But rumors about the iPad Mini is actually rather doubtful considering Steve Jobs, Apple founder and CEO before Tim Cook, not like a small tablet PC. He considers iPad sized 9.7 inch size is ideal. Jobs also had criticized. 7 inch tablet that is usually used by Android, will not be comfortable to use and lack of good applications.
Jobs even while still alive, believe 7 inch tablet will be 'dead on arrival' alias failed in the market directly. He also emphasized that Apple will not release a 7 inch iPad at the expense of quality.
But in fact, 7 inch tablet began to attract consumer interest. Like the Kindle Fire and Nexus 7 is reportedly selling well.
While the iPhone 5 itself reportedly has begun to be mass produced to put pressure on the new Android smartphone like the HTC One X and Galaxy S III.
Reportedly, the iPhone 5 material derived from glass and aluminum materials. While the 4-inch wide screen. Handsets with the iOS operating system is reportedly going to use quadcore processor made by Samsung to match the performance of competitors' handsets.