Picture and Video: Amoi V N820 Android smartphone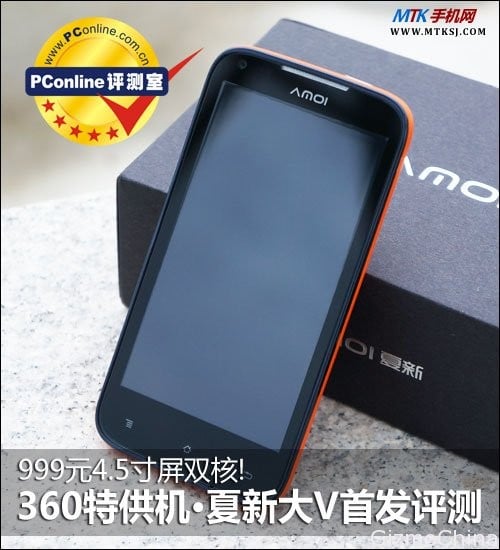 After we've covered Amoi N820 and tell you about the launching of that phone on August 8th, now we have few picture and video about that phone after the rest. AMOI N820 is a special smartphone for student by Qihoo 360, the new phone has unbelieveable low price, for young student only just cost RMB 999 (about $157).
Qihoo 360 as mobile phone manufacturers have been scheduled to perform pre-orders for Amoi V N820 phones at price of 999 yuan on 8 August 10:00 am and the buyer will get the phone on August 9. There is 20.000 units smartphones intended for students in the summer of this year.
Amoi V N820 phones using MT6577 dual-core chipset, which will provide faster performance for the needs of students. Because the budget of most students is very limited so this phones offered at a price that is quite cheap but still put a good specification for the needs of students.
The following is a specification that is owned by V N820 Amoi mobile phones:
CPU : MediaTek MT 6577 dual-core 1GHz
RAM : 1GB
ROM : 4GB, Support Micro SD card expansion
Screen : 4.5-inch 960×540 TFT
Camera : 8 million pixels + LED flash, 3 m
Operating system : Android OS 4.0
Type of SIM card : WCDMA + GSM dual sim dual standby
Dimensions : 131x67x10.5mm
Weight     : 158g
Battery : 2050mAh
After the shell color : Black, white, yellow, red, green, blue, orange
Selling price : Estimated price of 999 yuan
Not only Amoi V N820 will offers on August 8, there is another phone which offers by another manufacturer, that is Alcatel AK-47 (OT986), Huawei Shine and Haier W910. Here is the four smartphone designed to meet the different needs of different users is also divided into low to high.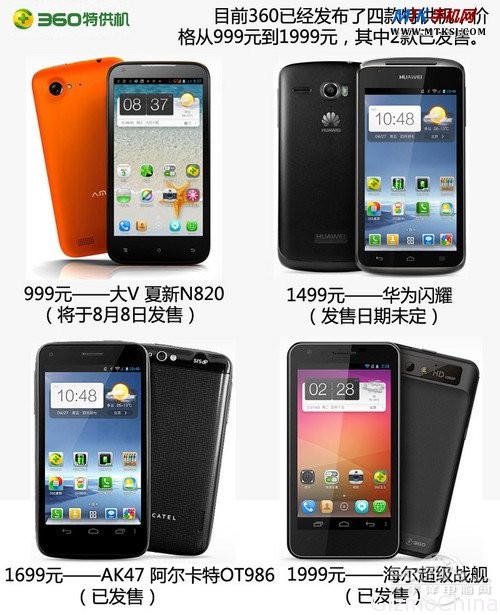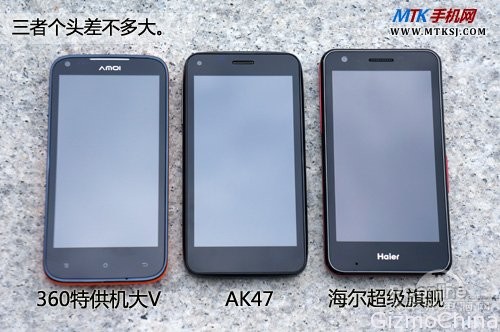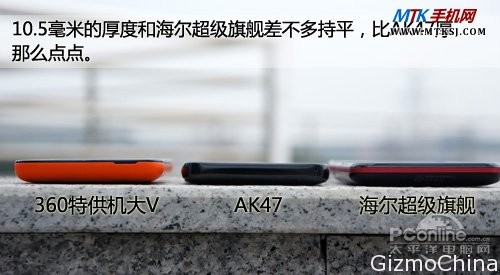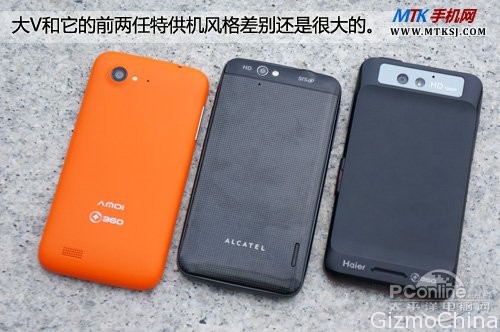 The comparison can be seen in three appearance and inheritance relations are also very different style. After all, Amoi large V the main market of students.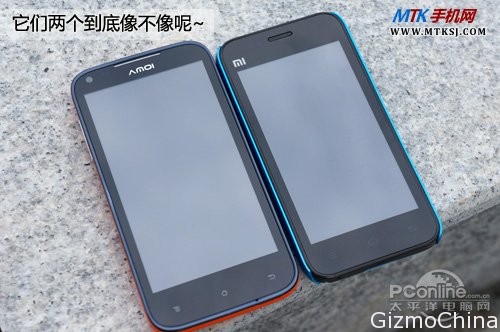 After all, from the large V body is easy to find many of the familiar feel of, such as the front a bit like the renderings of the millet in M2 the back of the upper part like the HTC Sensation lower fuselage like the HTC One X … but having said that, the work is Amoi N820 the back cover of feel to have a lot of progress, work is very solid.
Here is the video review of Amoi V N820: