Acer CloudMobile come with 1.5GHz dual core processor and 8MP camera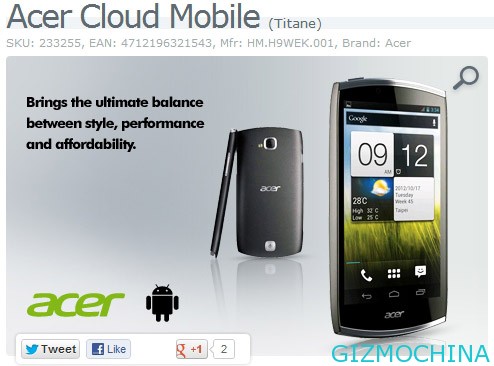 In February, Acer has introduced his own cloud-based mobile phone, the Acer CloudMobile. Now, the phone has been officially avilable for pre order. Unfortunately, as a first step, the phone is starting sold in Europe for $ 450 USD price tag.

This mobile phone is a phone that uses the Android Ice Cream Sandwich operating systems. On the inside, this phone has a dual core 1.5GHz processor. To support the performance of the processor, this phone comes with 1GB of RAM.
Moreover, this phone has a 4.3 inches screen size. On the back, you can find a 8 megapixel camera with LED flash. As we know, after Android OS update on the existence of Jelly Bean 4.1, the Acer has not provided a statement. As for the willingness in the market, this phone can be found in September 2012.