12 Figure resolve the second-generation Xiaomi phone functions secret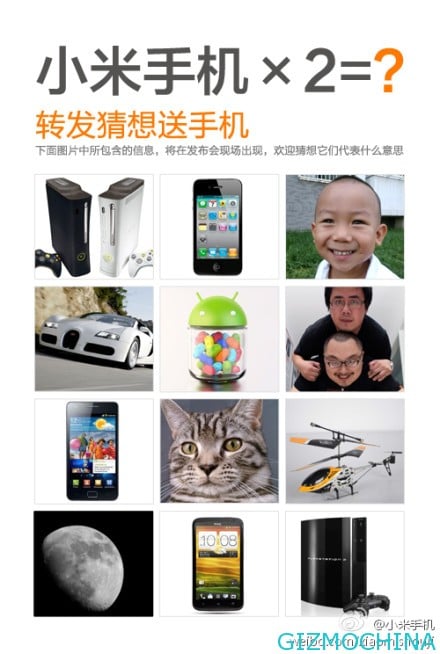 The second-generation Xiaomi phones believed to be the hot topic of concern to many people now, and now we are waiting to see the Xiamo MI2 launch on China. 12 photos in this Xiaomi official microblogging, known as the information will be hidden in the Xiaomi MI2 conference.

The 12 figure pics here is the Xiaomi MI2 capabilities, but some people maybe asking about the meaning of that picture. Although these suspense in a few hours after will reveal the answer, but still let us in advance to some speculation, take a look at when officially released the second generation of Xiaomi MI2 smartphone:
The release of these photos from Xiaomi:
The first clearly indicates that Xiaomi second generation there will be black and white colors launched, while the second pics is represents that smartphone will be the same as the Apple iPhone experience. The third pics is child's photo on behalf of the Xiaomi second-generation mobile phone with has face recognition function, the fourth pics sports car that the Xiaomi phone runs very fast. Photos of the fifth robot jelly beans have no doubt that the Xiaomi smartphone will be equipped with Android 4.1 jelly bean OS.
While the two men in the sixth photo is already well-known "box brothers, the meaning of the pass is a strong load-bearing capacity of second-generation Xiaomi mobile phone box. Photos 7 on the Samsung GALAXY SII expression seems relatively vague, perhaps the means second generation Xiaomi phone packs with 4.3 inches touch screen display or use the Samsung Super AMOLED Plus touch screen material. The eighth photos is represent that second-generation Xiaomi phone has touch screen with higher resolution pixel density will reach the level of the retina display. In addition, the remote control helicopter pictures is represent that Xiaomi smartphone can be used as a remote control, while the lunar tenth photos show that the powerful of second-generation Xiaomi mobile phone camera.
In addition, the tenth photo appear HTC One X is represents the the second-generation Xiaomi mobile phone will have quad-core processors, while the last video game photos indicates the powerful performance of second-generation Xiaomi mobile phone will pack with games and entertainment contents.
The new Xiaomi smartphone which has codename "2012051″, "2012052″ and "2012053″, while the "2012051″ and "2012052″ is designed for China Unicom WCDMA network, and "2012053″ is supported for China Telecom and China Unicom CDMA2000 / WCDMA network.
From the latest exposure in the microblogging certificate query information, the above information is indeed undisputed. In telecommunications Model 2012053, supported by the network CDMA2000/WCDM. Models, compared with 2012052 in favor of the ordinary version of the GSM / WCDMA network, are considered by Inventec and Foxconn OEM, which also illustrates one aspect of Xiaomi sales forecast is very optimistic about the second generation of mobile phones.
You can buy or pre-order the Xiaomi MI2 at Android-sale.com now