Lenovo IdeaPad Yoga ARM-based and Intel-based processor ready to hit the market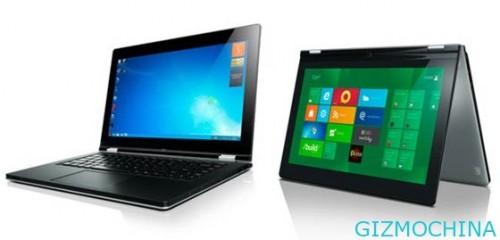 Computer and laptop manufacturers from China, Lenovo decided to come into tablet hybrid market by setting up a IdeaPad Yoga, this device is powered by the Nvidia Tegra 3 processor.

Lenovo made this hybrid tablet comes in 2 versions, the Lenovo IdeaPad Yoga with ARM-based processor with Nvidia Tegra 3 quad-core and IdeaPad Yoga with x86-based which will be powered by Intel processors.
The Lenovo IdeaPad Yoga with ARM-based is claimed to be longer battery life, even several sources, the Lenovo IdeaPad Yoga is powered by the Nvidia Tegra 3 has 2X battery life compared to Intel-based Lenovo IdeaPad Yoga.
This Chinese manufacturers was reportedly formed a partnership with Nvidia Tegra processor quad-core 3 is the main engine for Lenovo IdeaPad Yoga tablet hybrid that will be using the Windows RT operating system.
Windows RT operating system is Windows 8 editions are optimized for ARM-based devices that will only support the view Modern UI (formerly called the Metro Style) and the application of Microsoft's online application store.
Lenovo IdeaPad Yoga brings the tablet design that carries a hybrid mode includes a laptop with a keyboard like most notebook and tablet mode by twisting and folding screens that cover the keyboard, and be a tablet style form-factor.
Lenovo IdeaPad Yoga is a tablet hybrid which powered by Nvidia Tegra 3 quad-core and reinforced with ULP GeForce graphics (Ultra Low Power) with 8Gb of RAM memory and storage capacity of SSD (Solid State Drive) with 256GB capacity.
Until now, there is no mention of Lenovo IdeaPad Yoga release date, but some sources say that the IdeaPad Yoga will be launched shortly after the Windows 8 OS was launched on October 26th.
As reported from the Internet, the price of ARM-based Lenovo IdeaPad Yoga is also unknown, while the Lenovo IdeaPad Yoga with Intel-based processor is expected to be USD $ 1,199 price tag.