Samsung Galaxy S-II, the most popular Android smarphone in Chinese market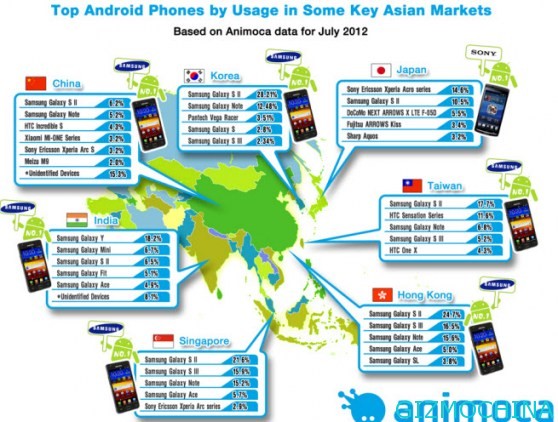 Samsung is known as the king of smartphones in the world, including in Asia. However, what kind of Android phones are widely used in the respective countries in Asia?

If you are curious about it, then you can see the data owned by Animoca. Animoca is a platform that provides various types of mobile games are widely played by gamers, gamer Android is no exception. Game of Animoca even this much is played by teenagers.
Of data usage per month in July, Samsung Galaxy S II seems to be the most popular Android phone in Asia. Samsung Gaalxy S-II device is a top choice of Android mobile phone users in China, South Korea, Taiwan, Hongkong and Singapore. While the Android mobile phone users in India prefer Samsung Galaxy Y are sold at low prices. In addition, Japan is the only country in the Animoca's data with Samsung mobile phones are not popular, but Sony Xperia Arc series is more popular in Japan.