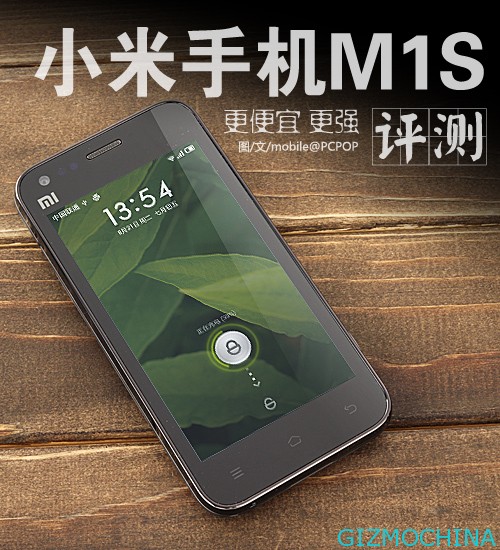 After Xiaomi held conference on August 21st in Beijing, they focus of attention of the user, but with the appearance of Xiaomi M1S smartphone, that is noteworthy the phone no large changes in appearance.

This new Xiaomi phone 1S just upgrade the processor to dual-core 1.7GHz, rather than to quad-core 1.5GHz, but for the Xiaomi phone generation, this is not a small upgrade. Today, the Xiaomi M1S phone has arrived and we have to find out more about this upgrade product.
First, we start with a detailed look at the Xiaomi M1S phone specification:
Basic attributes
Operating system : MIUI V4 (based on Android 4.1)
Phone standard     : GSM and WCDMA
Support band : 2G = GSM 850/900/1800/1900MHz, 3G = W CDMA 2100MHz
Network connection : GSM / GPRS / EDGE / UMTS / HSDPA
Standard Battery : 1930 mAh
Hardware configuration
Number of cores : Dual-core
CPU : Qualcomm Xiao Long MSM8260 1.7GHz
GPU Model : Adreno 220
Memory capacity : 1GB of RAM / 4GB of ROM
Memory card : MicroSD (TF) card, up to 32GB support APP2SD function
Designs
Phone screen : 4.0 inches
The main screen color : 16.77 million colors
Resolution : 480 × 854 pixels
The main screen material : TFT
Touch screen : Multi-touch capacitive screen
Dimensions (generous) : 125 × 63 × 11.9mm
Product weight : 149.0g
Camera functions
Camera pixels : 8 megapixel
Front camera : 2 megapixel
Flash : LED fill light
Camera Description : Digital zoom with autofocus and image stabilization, ISO adjustment
Photo Quality : Maximum 3264 × 2448 resolution
Video capture : Support, 720p (1280 × 720,30 frames / sec.)
Data connection
Wi-Fi/WAPI : Support WAPI compatible WIFI (802.11n)
Bluetooth : Bluetooth 2.1 + EDR
Headphone jack : 3.5 mm
Data Line Interface : USB2.0 interface
Here is the Xiaomi M1S phone specification: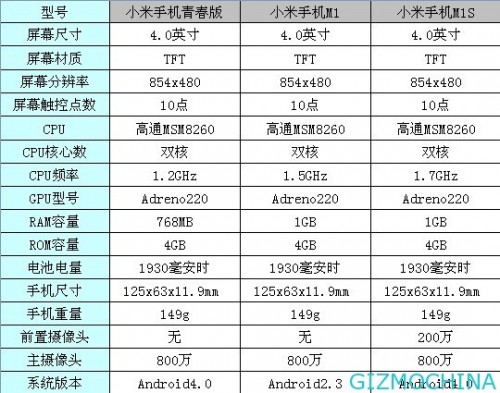 Comparison from both specification :
Compared to the Xiaomi first generation, is the upgrading processor which feel not too much diferent for the user, perhaps the front facing camera may be will become more attention for the user.
After release the new Xiaomi phone, the most commonly comments from the user from the previous model is no front facing camera, but a year later, the front facing camera finally added. While this front facing camera from Xiaomi M1S is 2 megapixels, While this camera uses a back-illuminated second-generation light-sensitive devices, support 1080P HD video camera, theoritically, the camera performance is very good.
Compared Xiaomi Phone M1 smartphone with Xiaomi Phone M1S upgrade version:
Xiaomi Phone M1 using Qualcomm S3 MSM8260 dual-core 1.5GHz processor; while the Xiaomi phone 1S using MSM8260 dual-core 1.7GHz processor by Qualcomm.
Front facing camera; the Xiaomi phone 1S has 2-megapixel camera
Xiaomi phone M1 using f/2.4 large aperture 8 megapixel camera; while the Xiaomi M1S has 8 megapixel camera with f/2.2 large aperture.
Xiaomi phone M1 based on the MIUI developed Android 2.3 operating system; while the Xiaomi Phone M1S phone based on Android 4.0 operating system using MIUI user interface.
Is performance boost the prices? Here is the Xiaomi M1S upgrade detailed:
The form factor of Xiaomi 1S and Xiaomi first generation is not too much different, so we don't focus to the form factor for both that phone, so you can jump into diagram to see the performance detail below:
Conclusion:
Overall, Xiaomi phone 1S upgrade from Xiaomi phone first generation even not too much different, but the experience these upgrades in order to bring a little higher performance experience. And the price is quaite competitive since Xiaomi 1S has 1499 yuan price tag.
If you prefer to use a mobile phone camera, the Xiaomi 1S phone is more suitable for you, whether it is the self-timer or readily shoot, the Xiaomi 1S phone can easily do the job and handy for taking picture, but also quite affordable price of 1499 yuan. If you just want to experience the MIUI system or no need for front-facing camera you can choose Xiaomi phone first generation just only has 1299 yuan price tag.
You can order both of those phone from Android-sale.com