Lenovo IdeaPad Z series, slim laptop packs with Windows 8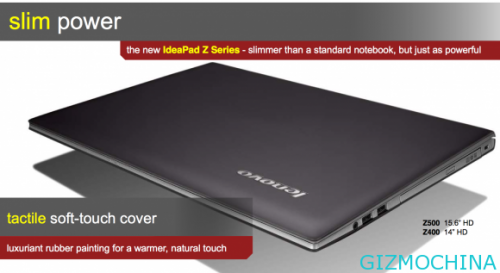 Lenovo has just introduced two Lenovo IdeaPad Z Series laptop, the Z500 and Z400. Two laptops are also claimed to have a slim size with powerful capabilities.

This notebook does not support touch screen. However, the laptop will be equipped with the Intelligent Touchpad specifically designed for Windows 8. In terms of the processor, Lenovo to use Intel Ivy Bridge Core i7 Pro processor with Windows 8 operating systems.
For Z500, you'll get HD backlit LED screen measuring 15.6-inch with 1366 x 768 pixels. While the Z400 is equipped with a screen size of 14-inch LED backlit display with 1366 x 768 pixels. Both the notebook has a screen ratio of 19:9.
Both notebook is also equipped with a VGA Nvidia GeForce GT 645 2GB with DirectX 11. There is also a 720p HD webcam Backlit keyboard AccuType promising process very comfortable and precise typing. Regarding prices, the IdeaPad Z400 can be found in November with prices starting at $549 while the IdeaPad Z500 was launched in September at the same price.