Lenovo unveiled the S-series laptop in IFA 2012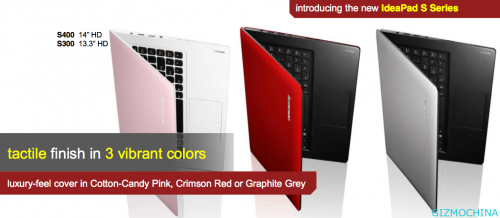 In the IFA 2012, Lenovo has just introduced a laptop in terms of design similar to an ultrabook. The laptop is a Lenovo S Series. There are three series of the laptop introduced by Lenovo, the S300, S400 and S405.

Laptops are also designed very thin. All three versions of the laptop has a maximum weight of 1.8kg with a thickness of 0.87 inches.
The first series is the Lenovo S300. This device has an Intel Core i5 Ivy Bridge, equipped with a VGA chipset from AMD. This notebook uses the 13 inches screen size.
The second series is the S400 also still uses a Core i5 Ivy Bridge and AMD VGA chipset. And, should an ultrabook, the laptop is also equipped with a 32GB SSD and HDD capacity of 500GB. Packs with 14 inches screen size.
And the last is the Lenovo S405. This device using AMD A8 quad core x86 processors. This notebook is also equipped with a 32GB SSD and a 1TB HDD.
Regarding the price, Lenovo S Series will has retail proce for $ 500 USD, depending on configuration. Lenovo likes to put it, the S series have a long battery life just like netbooks, but they come with the processing power of a notebook, lacking the price premium of an UltraBook.