Windows Pad, Microsoft Surface Tablet knock-off running Android Jelly Bean 4.1 (and probably Windows 8)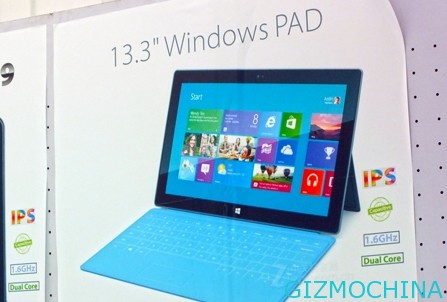 Microsoft Surface tablet devices from Microsoft does not glide on the market. But Chinese manufacturers named FView have prepared a clone of the tablet. The tablet is "Windows Pad".

The emergence of the tablet was first known by TechDigest at the IFA 2012 event in Berlin. In appearance, this tablet has a shape and design is almost similar to the Microsoft Surface. But there are some differences between the two devices.
The difference, while Microsoft Surface runing Windows RT or Windows 8 OS, but Windows Pad is running Android 4.1 Jelly Bean OS. In addition, there is the possibility FView will also provide Windows 8 OS.
In addition, the tablet has larger screen size. It said this tablet comes with a 13.3-inch IPS screen size with 1280 x 800 pixels. Powered by 1.6GHz dual core processor and equipped with WiFi and Bluetooth.