Huawei Ascend D1 Quad now available in Chinese Market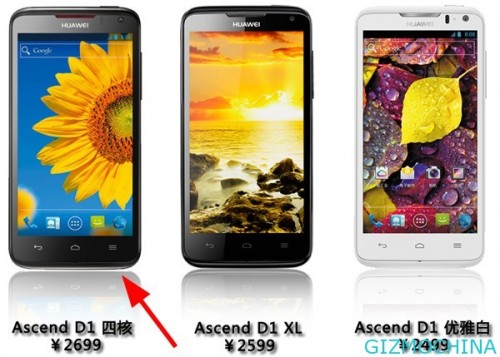 After the launch of the MediaPad FHD quad-core tablet, Huawei has now sold a mobile device powered by their own chip Hisilicon K3V2 (Hi3620).

Following our previously reported the existence of this phone, Huawei has finally been released Ascend D1 Quad to the Chinese market following two other Huawei devices namely D1 and D1 XL, those phones is running Android 4.0 ICS operating system.
But a little surprise on the price of three mobile device Android 4.0 is – we're looking at $ 425 unsubsidized on Huawei's Chinese online store, while the remaining TI OMAP4460-powered candybars cost $16 $32 less.
The Steps taken by Huawei is hardly enough considering there are currently several local competitors like Xiaomi, K-Touch and Beidou offering quad-core processor with a price below ¥ 2,000 (or aroound $ 315), but Huawei Device chairman Richard Yu assured that Huawei build quality and user experience that provides a quite reasonable price. By presenting this Quad D1 Huawei phones trying to compete with the Samsung Galaxy S III.
Here are the specs of Huawei Ascend D1 Quad : Powered by 1.4GHz 40nm Cortex-A9 chip, a mysterious 16-core GPU, 1GB RAM, 8GB internal storage, 160GB cloud storage and microSD expansion, complemented by a 4.5-inch Toshiba IPS+ HD display, Gorilla Glass 2, eight-megapixel BSI main camera, 1.3-megapixel front-facing camera, pentaband WCDMA radio, old-school mini-SIM slot and a generous 2,600mAh non-removable cell (same as the D1 XL's)