The price of Asus tablet with Windows 8 / Windows RT revealed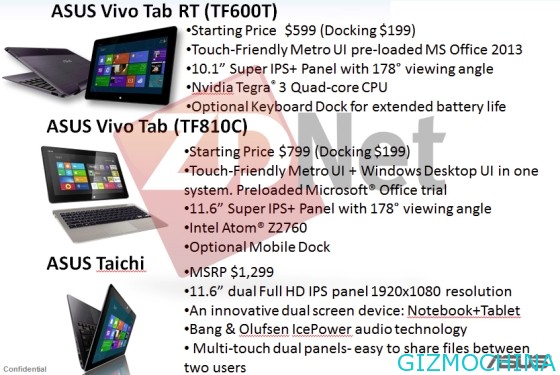 Previously, Microsoft CEO hinted that taking tablets Surface which running Windows 8 and Windows RT OS will not be sold at a low price. And, it appears that similar steps will be followed by the other Windows 8 tablet manufacturers.

In a document obtained by ZDNet, there is a price list for Windows 8 and Windows RT tablet from Asus. This price is not been officially published by Asus.
In the document, there are three latest device which running Windows 8 and Windows RT from Asus, the Asus Vivo Tab RT, Asus Vivo Tab and Asus Taichi. Asus Vivo Tab RT and Vivo Tab is the tablet that is equipped with docking keyboard but that docking is sold separately. While Asus Taichi tablet is uniquely equipped with two screens.
Among the three tablets, the Asus Vivo Tab RT is the cheapest tablet from Asus with $ 599 USD price tag. As for the docking keyboard, you are required to spend an additional for $ 199 USD. The tablet is equipped with quad-core NVidia Tegra 3 which has a 10.1-inch Super IPS display.
While Asus Vivo Tab is running Windows 8 OS sells for $ 799 USD. The price for docking keyboard of the tablet is the same as the Vivo Tab RT, which is $ 199 USD. This tablet powered by Intel Atom Z2760.
And, the most expensive tablet is the Asus Taichi which has $ 1299 USD price tag. The tablet has dual Full HD IPS display with a resolution of 1920 x 1080 pixels which has 11.6 inches screen size. Both screens are also equipped with touchscreen capability.