K-Touch W819 Palagio, Android smartphone with affordable price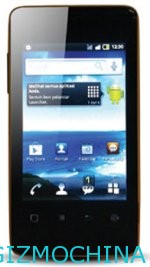 A new mobile phone from K-Touch has just rolled into the global market. The K-Touch W819 Palagio is one of smartphone from Chinese manufacturer is ready to fight with dozens of low-end Android phones already on the market.

Specifications owned by this phone is quite attractive. There is a 3.5-inch touchscreen display that has a resolution of 480 x 320 pixels. The processor component is presented from Qualcomm, the Snapdragon processor that has a speed of 800MHz MSM7225A. Do not forget, this phone comes with dual GSM slot.
For speed in internet browsing, this phone supports 3G network access. In addition, the K-Touch W619 Palagio is also equipped with WiFi. You can also use Android Gingerbread 2.3 mobile phone as a WiFi hotspot.
On the camera, this phone is only providing a 2MP camera that is capable of producing images with a resolution of 1600 x 1200 pixels. This camera is only able to deliver CIF quality video recording (352 x 288 pixels) at 15 fps. There is no secondary camera in this phone. So, you will not be able to use this phone for video calling or video chatting.
You can get this phone with only US$ 90. It's cheap enough.