K-Touch Hornet II, unveiled the new quad-core Android smartphone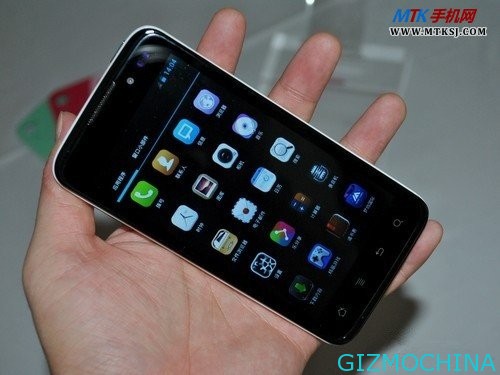 Tianyu K-Touch is one of the Chinese smartphone manufacyurer which always offers good quality smartphone with affordable price, it's now they starting debut to quad-core Android smartphone with their new Hornet lines, it's K-Touch Hornet II.

K-Touch Hornet II is Android phones that powered by Tegra 3 quad-core processor, clocked at 1.5GHz, and will has 1499 yuan price tag. Here is the specs table of K-Touch Hornet II smartphone:
型号
天语大黄蜂V8
天语大黄蜂II勇气版
主屏尺寸

4.5英寸

4.5英寸

主屏材质

IPS

主屏分辨率

1280×720像素

960×540像素

网络类型

单卡双模

单卡双模

网络模式

GSM,WCDMA

GSM,WCDMA

数据业务

GPRS,EDGE,HSPA

GPRS,EDGE,HSPA

操作系统

Android OS 4.0

核心数

四核

四核

CPU型号

Nvidia Tegra3

Nvidia Tegra3

CPU频率

1536MHz

1536MHz

GPU型号

OpenGL ES 2.0

OpenGL ES 2.0

RAM容量

1GB

1GB

ROM容量

16GB

4GB

SIM卡类型

SIM卡

SIM卡

电池类型

不可拆卸式电池

不可拆卸式电池

电池容量

1800mAh

1800mAh

摄像头
前100万后500万
前100万后500万
功能
GPS,重力、光线、加速、距离感应器、电子罗盘
售价
1999元
1499元
K-Touch Hornet II will sports with a 4.5-inch IPS wide viewing angle screen, QHD resolution of 960 x 540, 1 megapixels front-facing camera above the screen, there is four touch buttons belo the screen. The K-Touch Hornet II version the whole appearance V8 gap, local design changed slightly. For hardware aspects, Hornet II will powered by Nvidia's quad-core Tegra3 processor, with 1.5GHz clocked speed, 1GB of ROM is smaller than the V8, while V8 is built-in 16G and The new edition drop to 4GB of storage, packs with 5 megapixel rear-caemra, the battery capacity is 1800 mAh, and the different with previous model is that the battery is not removable.
K-Touch Hornet II running Android 4.0 operating system and has 9.9mm body thickness, on the left side of the body, there is volume button and micro USB port for charging and transfering the files. On the back body we can find the 5 megapixel camera and speaker phone on the bottom.