Meizu MX2 screen size is 4.4 inch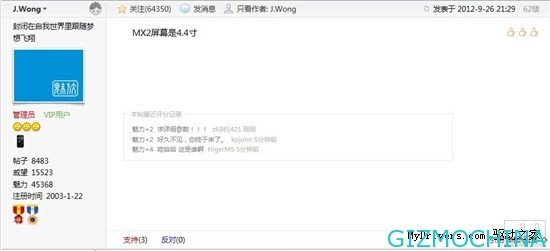 Earlier yesterday, we had reported about the Meizu MX2 configuration parameters, followed by those news, there is another news spread from Meizu forum, which also attracted the attention of J. Wong.

J. Wong said about the Meizu MX2 speciffication who claimed that the smartphone will equipped with 4.4 inches screen size, but he soon delete the comment. Fortunately, the other user has been make a screenshot to leave the evidence. Have to say, the machine is equipped with 4.4-inch, it is estimated that component its provided by Sharp.
Since the J.wong has raised no objection to other parameters, MX2 is powered by 1.6GHz Samsung Exynos 4412 quad-core processor (same as Galaxy Note 2), the same built-in 2GB of RAM, and battery capacity will be increased from 1700mAh upgraded to 1930mAh.
In addition, the camera will continue to be 8 megapixel, but the aperture from f/2.2 becomes f/2.0 running Android 4.1-based custom operating systems.