CarPad F6, the 6-inch touchscreen MT6577 dual-core smartphone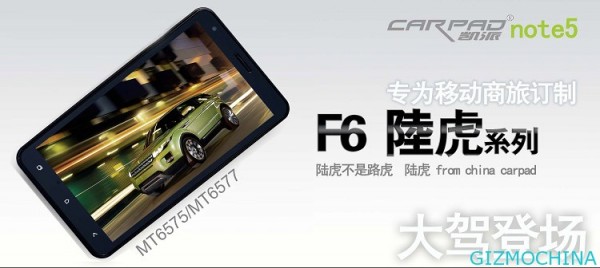 While we are now love larger screen and there are so many smartphone-tablet category in the market, so we called that products as a "phablet", this terms becoming more popular since Samsung has been unveiled their Galaxy Note for global market.

And now we have domestic manufacturer which built the smartphone that has the same form factor, the product is called CarPad F6, packs with 6-inch screen display and support for touch the screen using stylus, and since this phone has 6 inch screen, I'm not sure about comfortability of this phone, especially when you have small hands but this phone is comfort enough for reading an eBook, browsing the web and typing.
The CarPad F6 sport with dual-core chipset from MedaTek MT6577 which running at 1.0GHz CPU, PowerVR Series 5 GPU, packs with 1GB of RAM, 4GB of internal storage, and running Android 4.0 Ice Cream Sandwich operating system.
This phone is also support for expanding memory storage through a microSD card slot, and interestingly, this phone has dual-SIM card support, and many ways for connectivity such as Bluetooth, WiFi and GPS. There is an 8-megapixel rear camera, and a 2 megapixel front-facing camera.
This is the good phablet device since offers many feature and you can pick this device for around $239.