Android Mini PC from Shenzhen South Holdings.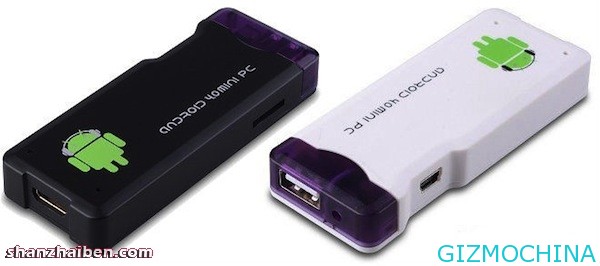 After we've covered few mini PC products before, and now we have another mini PC products from domestic manufacturer, Shenzhen South Holdings. This is a thumb-size mini PC, look like a USB flashdsik (UFD) storage, but it's not an ordinary UFD, this is a real PC in your pocket!.

If you connect this device with the TV it will be a network terminal for online video and suffering the internet. It's very simple and flexible, especially for mobile user who always trip to another office or going abroad.
This device powered by A10 solution, Cortex A8, running at 1.5GHz clock pseed, packs with 1GB of RAM and 4G of ROM, there is HDMI port and packs with two USB ports, running Android 4.0 Ice Cream Sandwich operatig systems and connect to Internet through WiFi.