Microsoft, Huawei, MediaTek will jointly build a Surface Phone?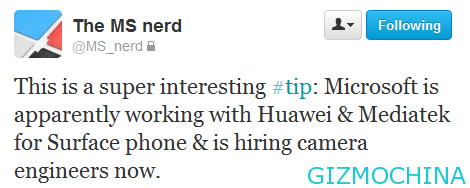 After we've heard about the rumor of Microsoft will built Windows Phone 8 Surface Phone, it's now we heard another interesting news which confirm from many source, including The MS Nerd Twitter account who post "Microsoft apparently working with Huawei & Mediatek for Surface phone & is hiring camera engineers now".

This is quite interesting because Microsoft choose Chinese manufacturer rather than another manufacturer, while we are now that Microsoft has been working as join partner with Nokia for built Windows Phone smartphone on the market today.
As we all know, Huawei mainly distributed in China, a price-sensitive market. Whether this low-end entry-level phone compatible with WP8 system has yet to be confirmed.
We have reported before due to Microsoft's own brand of surface phone, we are not surprised, but whether he is the entry-level phone whether will compatible Windows Phone 8 platform, and this is still unknown.