Short-review of Huawei Ascend D1 XL, quad core Android smartphone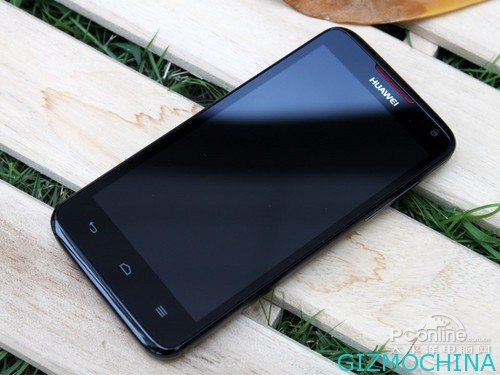 Huawei is one of the biggest smartphone manufacturer, and now they not just only producing a smartphone but there are a couple series of tablet PC too. But now we have short review of their new Android msartphone called Huawei Ascend D1 Quad-Core XL.

This is the newer version smartphone and upgrade from former version, Huawei Ascend D1, but this phone has more robust with higher battery capacity and Quad-core faster processor that independently developed by Huawei Hass K3V2 (Hi3620) quad-core processor. This phone has been introducing by Huawei at Mobile World Conference 2012 in Barcelona.
Here are brief specs of Huawei Ascend D1 XL Quad-core smartphone:
CPU  : 1.4GHz Hass K3V2 (Hi3620) quad-core processor
RAM :1GB
ROM : 8GB support for memory card expansion
Screen : Second-generation 4.5-inch 1280×720 pixel IPS Corning Gorilla Glass
Camera : 8megapixel back-illuminated CMOS + 1,3 megapixel front facing camera with dual LED flash light
OS : Android 4.0
SIM card : Standard SIM card
Body size : 129.9×64.9×11.5mm
Weight : 145g
Features : OTG, MHL, Dolby 5.1 sound, the U.S. GPS / Russia Gloness dual satellite navigation system
Battery : 2600mAh (non-replaceable)
Official Price : 2699 yuan
Huawei Ascend D1 XL Quad-core offers nice color with the black color and red color in some parts of the body, makes this [hone look elegance and solid as usually found in the business sgamrtphone.
Huawei give a good packaging for this phone, and there is a standard pack with USB data cable, battery, manual book, charger and smartphone unit.
Huawei D1 Quad-Core XL has a 4.5-inch screen size IPS screen, IPS is the sort of tech Apple uses in its the new iPad and it really shows in the Huawei. While the dimension is 129.9x 64.9 x 11.5mm However, because of its border control, the grip is good, but the single hand operation s slightly inconvenient, and sometimes need to move the hand position.
In fact that battery is very special which has 2,600 mAh capacity, significantly larger than found on some other handsets, like the Galaxy S3. Huawei has also written some clever battery saving software which apparently can, in ideal situations, translate to 500 hours of standby time. And this phone is sports with Dolby Sound feature.
The headphone jack and powere/lock key locate on top of side body and the volume key is on the right side on the body while mini USB port is on left side of the body, the mini USB port has two kind of function, for transfering the data and recharge the phone battery. While as we mention above the body only has 11.5mm thickness.
On the front of phone, you can see the 4.5-inch screen size along with speaker phone which has red strip color, it's very nice when red color combine with the black body, below the screen you can find the three soft button for Back, Home and Menu as a function in most Android OS smartphones.
On the rear body you can find the 8 megapixel camera with LED flash alongside with Huawei Logo below the camera lens, and the cover of the battery has a nice patern which avoid to slip phone from your hand, on the below parts there is Doldby Digital Plus logo, as we mention before, this phone has Dolby Sound capability. If you open the battery lid, you will find the sim card slot and memory card slot, the memory card is using Transf Flash.
Huawei Acend D1 Quad-Core XL model U9510E powered by Quad-core 1.4 GHz processor but in the evaluation unit, there is 1.2 GHz processor K3V2 chipset based on ARM Cortex-A9 SMP IP using 40nm. At the same time, the 32×2-bit wide memory channel processor between the CPU and RAM, 64bit bandwidth DDR memory can be more fully release quad-core performance.
This phone also support for 3D graphics since has 16-core GPU and support for playing 3D game such as Temple Run, Jetpack, Angry Birds and Asphalt 7, which can be played with smooth and clear.
Huawei D1 Quad-Core XL supports for 3gp, mp4, wmv, rm, rmvb, mov, avi video formats, and also ready to playing 1080p video HD format. On the audio side, the phone supports mp3, wma, ogg, amr, aac, flac, wav, midi format audio files, and also supports Dolby 5.1 surround stereo sound. The D1 Quad-Core XL has a good performance in multimedia features.
Huawei D1 Quad-Core XL is running Android 4.0.4 Ice Cream Sandwich and also equipped with  cloud services, full backup, Newell cloud applications, built-in file manager and DLNA manager. While the appearance of the user interface is very user friendly for most of user because the Android 4.0 has a good user interface and intuitive menu.
And the camera fungction is very excelent since pack with lots of camera feature such as filter effect, lens effects, HDR function, macro mode and this camera reached the level of the maximum functionality of 8 megapixel back-illuminated camera with bright effect, slightly less than in low-light conditions and color reproduction.